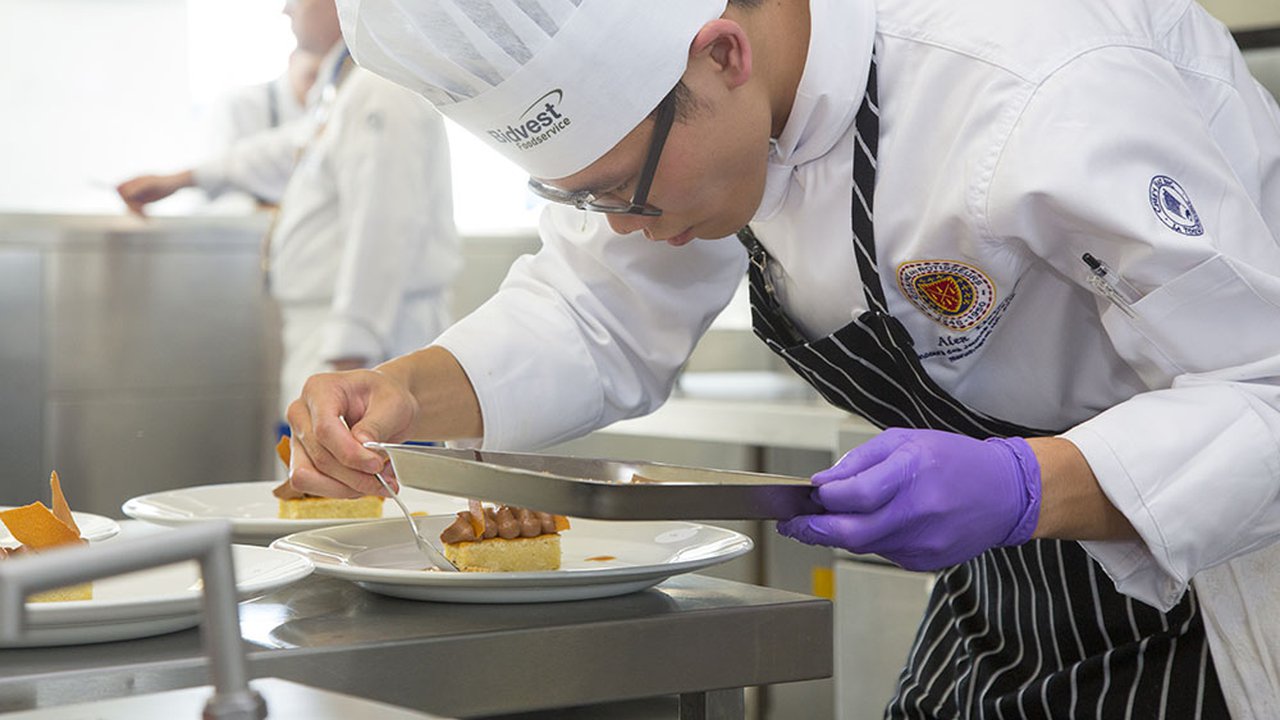 Chaine des Rotisseurs International Young Chef of the Year hosted at The Manchester College
Hosted at The Manchester College Fielden Campus, the International Young Chef Finals were open to chefs aged 27 years and under. 
Germany's Christoph Eckert has been crowned the Chaîne des Rôtisseurs International Young Chef of the Year 2016, after the competition was hosted in the UK for the very first time, in what was its 40th anniversary year.
Competitors in this year's contest were presented with previously unidentified, identical 'market baskets' filled with a wide selection of ingredients, provided by Bidvest Foodservice and a number of its supplier partners.
With just 3.5 hours to prepare a three course menu, the competitors showcased an impressive level of skill under immense pressure.
The standard at this year's contest, according to Philip Evins, Bailli Délégué de Grande Bretagne and Membre Du Conseil Magistral, "was one of the highest yet, and the menus produced were a true testament to the contestants' hard work and dedication."
It has been an honour to host the competition here at The Manchester College
Maxine Gunning, Head of Department for Service and Retail Industries at The Manchester College, said: "It has been an honour to host the competition here at The Manchester College. Supporting the talent and aspirations of young people comes naturally to us and we hope our international visitors have spent an enjoyable and enriching time here. Congratulations to Christoph, whose skill and hard work have been evident throughout the competition. This has been a valuable experience and one our own students have enjoyed being part of -  helping support in the kitchen, prepping the secret ingredients for the black boxes and working front of house."
Bidvest Foodservice, along with some of its supplier partners, is a sponsor of Chaîne des Rôtisseurs UK Young Chef Competition 2016 as well as the International Finals, as part of the company's commitment to supporting the development of young and aspiring chefs in the UK.  Andy Kemp, Bidvest Foodservice's Group Sales and Marketing Director said:
"With skill shortages in hospitality at an all-time high, it has never been so important to encourage and support the development of young talent.  Having witnessed first-hand the dedication and passion the Young Chef Competitors exhibit, we're delighted to have joined forces with some of our key suppliers to support this initiative.  The Chaîne des Rôtisseurs has a long-standing and successful approach to nurturing talent within the industry, which is why this partnership felt like such a natural step to take."