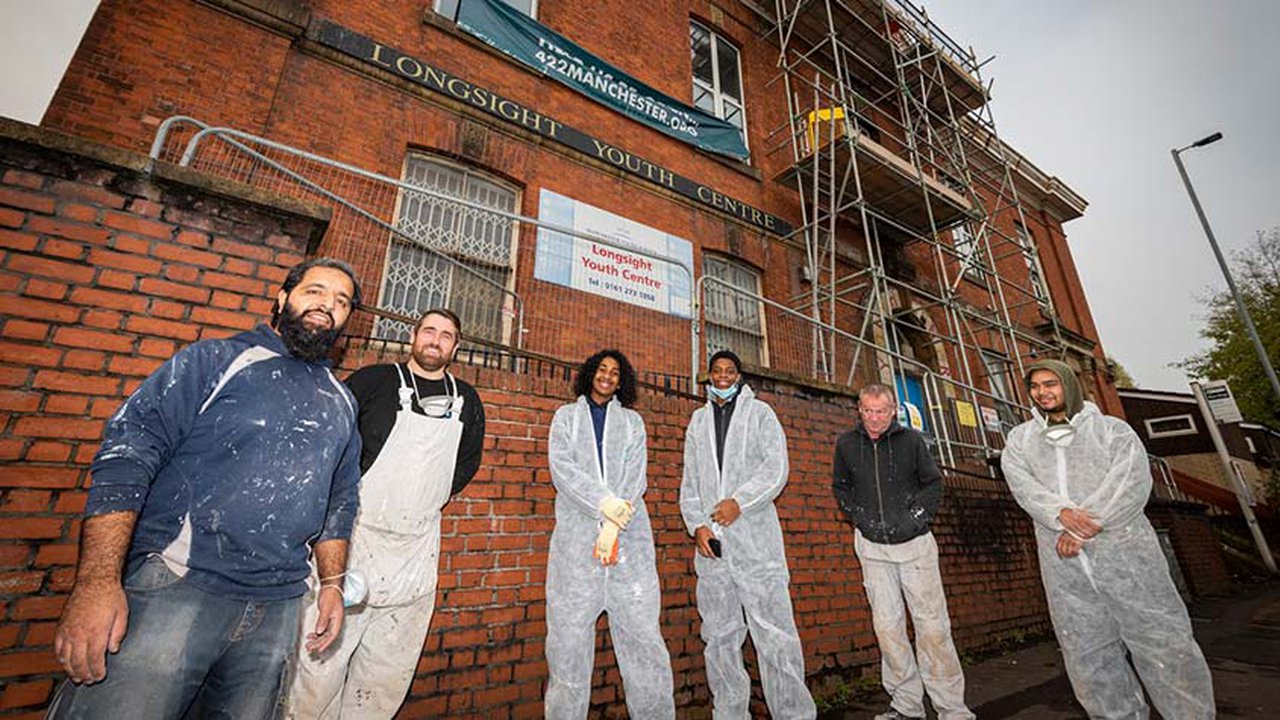 Construction students help out at 422 Manchester
The students have been helping the local charity to transform the old Longsight Youth Centre into a thriving community hub.
Students from The Manchester College's Industry Excellence Academy for Construction & Engineering have been honing their skills on a working site while helping out a local charity.
422 Manchester is a project by Manchester Vineyard, based in Longsight and Ardwick, which is currently working to restore the former Longsight Youth Centre into a new community hub, breathing new life into the local area.
In a true team effort, around 40 students from a range of Level 2 and 3 courses have lent their time and skills to assist with the project, including electrical installation, plumbing, plastering and site joinery. When current lockdown restrictions are lifted, there are plans for students on brickwork and painting & decorating courses to also get involved.
Stuart Hogg, 422 Manchester Project Manager, said: "It's been great having the TMC staff and students help us out with the refurbishment of the former Longsight Youth Centre. As you would expect funding and progress has been difficult, but their efforts have generated momentum and ensured the whole project becomes that bit shorter with every task they complete.
"The students have brought energy and vitality, with the staff ensuring safety and quality as well as making it an enjoyable process for all concerned."
We are very grateful to TMC for their assistance in starting to create what will be a fantastic, friendly and welcoming community hub.
Work that students have carried out includes planning, designing and costing the electrical fit out of the commercial kitchen; de commissioning and re-installation of radiators, pipework and sanitary ware; remedial plasterwork in the hall, stairwell and basement and stud walls for a new ground floor space with double door entry.
Level 3 Site Joinery Tutor, Damian Braithwaite, said: "When I attended the work experience with my students I was astonished at how professionally they conducted themselves. My first task was to show the students how to complete a studded wall and door and frame. This was accomplished on the first day, which gave us more time to complete another studded partition door and frame and complete the installation of the insulation, providing the students with additional experience.
"I also felt proud that other companies who were working on the project commented on how well they all worked together as a team and to produce a quality finish to the main area as you walk through. I quickly realised that my students are now ready for employment and would become an asset to any Construction company."
422 Manchester is welcoming all volunteers who would like to get involved and help bring the former Longsight Youth Centre back to life. If you would like to contribute, you can get in touch via their Facebook page.
Find out more about our Industry Excellence Academy for Construction & Engineering and apply today.