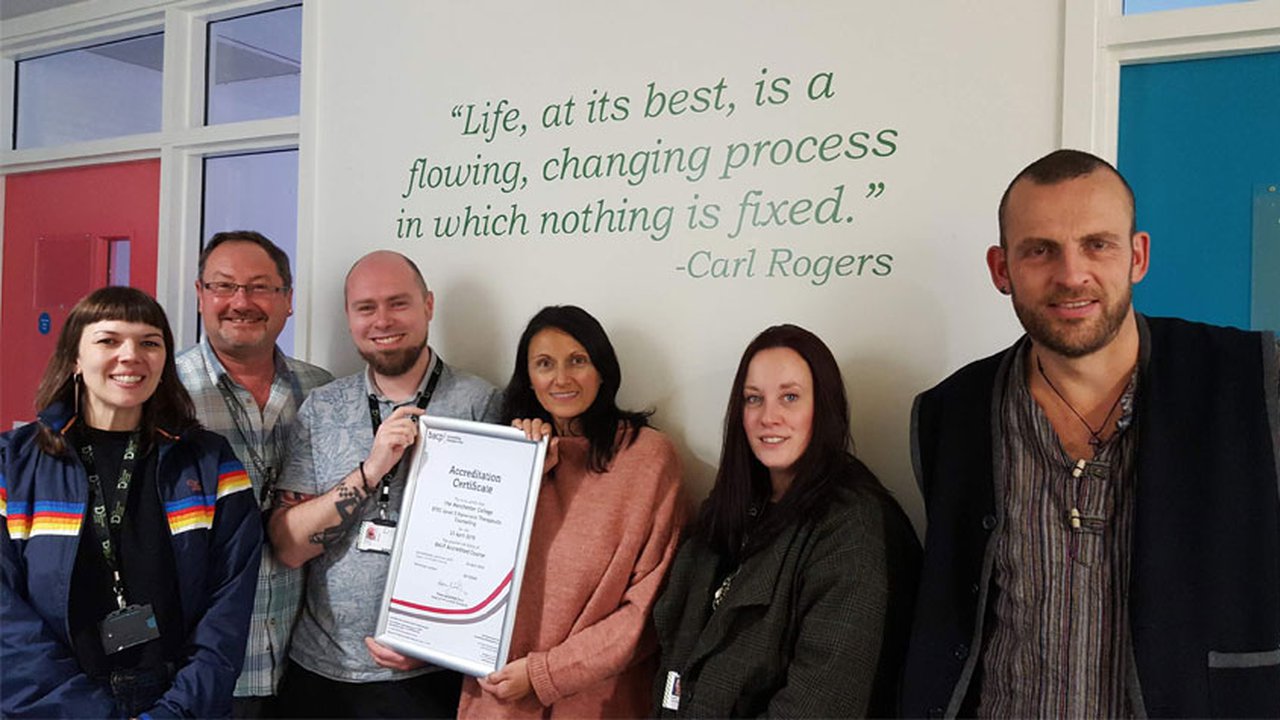 Counselling course gains professional accreditation
Counselling students at The Manchester College have been given official approval after receiving a top industry accreditation.
The Level 5 Therapeutic Counselling diploma  at Fielden campus has been awarded accreditation by the British Association for Counselling and Psychotherapy (BACP), making it the only college in the North West to gain the accreditation.
The department met the highest standards of teaching, assessment, student support, and placement opportunities. The accreditation means that students will leave with a professional qualification and can immediately register with BACP when they begin their career in counselling.
Mike Sivori, Departmental Team Leader for Counselling, said the team had been working towards the accreditation for three years.
He said "It means that not only has the course been scrutinised but also the wider business unit has shown to be of the highest standards.
"Counselling is not a regulated industry, unlike the medical profession, but BACP accreditation is the highest level of quality assurance, and we are the only college in the North West to have it.
"The accreditation is a guarantee to students that the quality of our teaching and assessment is some of the best that a Further Education(FE) college can offer in terms of preparing students for the world of work. It means we've got a fantastic learning experience for students in a great FE environment, with teaching in small groups and lots of support from experienced staff. 
"And, as most of our students are wanting to change their current jobs for a career in counselling, it means that they can go straight onto the BACP register once qualified, without having to sit a further proficiency exam."
Barry Atkins, Assistant Principal, Sports, Public Services and Care Professions, said: "To be one of only a small number of educational establishments in the North West to gain this recognition is a real achievement and testament to the skills, knowledge and experience of the teaching team, many of whom remain current practitioners. 
For learners it means that they will leave us with a professionally recognised qualification endorsed by the leading accreditation body for training courses in counselling and psychotherapy.
The  Level 5 Therapeutic Counselling diploma begins in January 2019 and anyone interested can email the Admissions Team on experience@themanchestercollege.ac.uk or call 03333 222 444.
Alternatively, find out more about the College's range of Health, Care and Wellbeing courses.