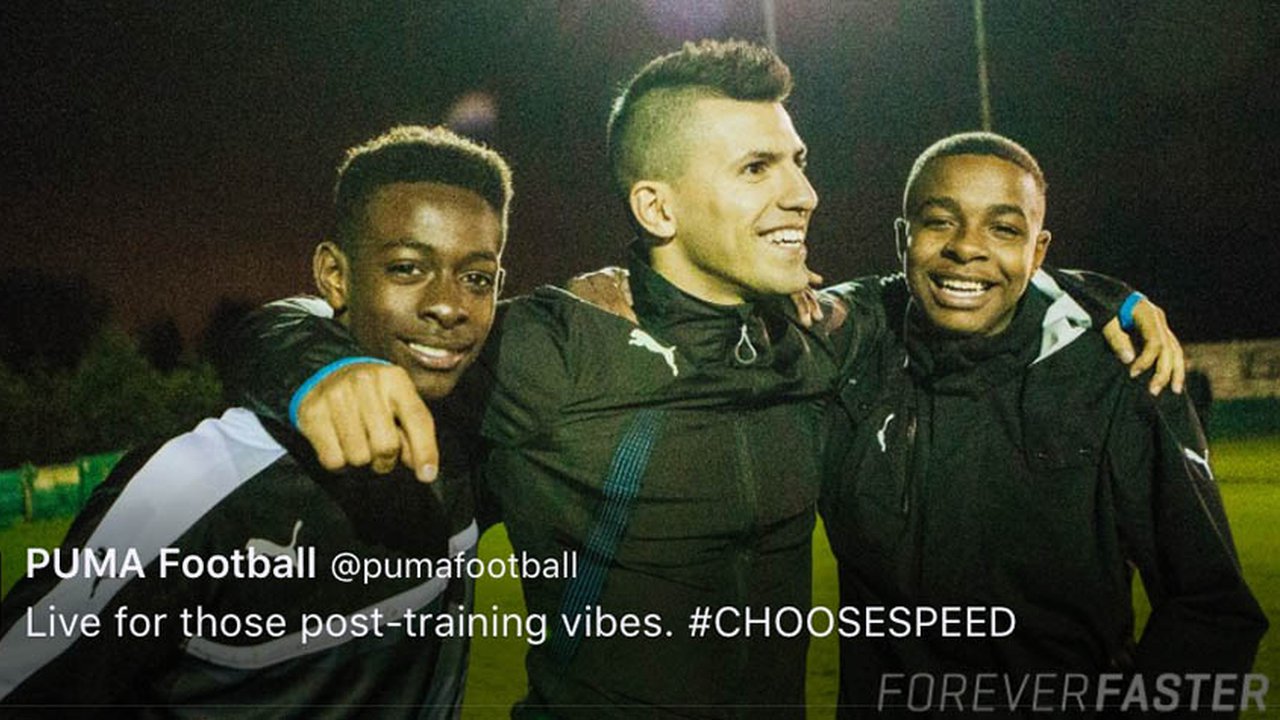 Football academy students have a kick about with Premiership footballers
Fourteen of The Manchester College's football academy team appeared in a Puma advert to launch the latest range of football boots alongside two Manchester City footballers, Yaya Toure and Sergio Aguero.
Sport students were eager and excited to hear if they had been selected to feature in the advert and didn't take any convincing to be involved in a demanding 12 hour day of filming. The day involved choreographing routines so the students were ready to film the advert when the Premiership footballers arrived. The footballers were limited with their time so filming had to start as soon as the footballers arrived.
The choreography involved student, Harruna Jarra, setting up a goal for Sergio Aguero from a corner kick and student, Elvis Amoakwa, impersonating Yaya Toure in avoiding footballs which were continually being kicked towards him to showcase speed.
Speed is the feature of the advert.
Stuart Nickson, Football Academy Manager at The Manchester College arranged for the students to appear in the advert after being approached by the casting agency. Stuart negotiated what the day would entail to ensure the filming would benefit the students in terms of their course and career prospects. The day started with the students being styled in a Puma kit and football boots and then working with stylists, choreographers and producers before working alongside the Premiership footballers. Stuart said: 'The students were given first-hand experience of working with professional people and an understanding of what it's like to work a long day.
Two of the students had main parts in the adverts and the casting agency have put these students on their books for potential future work.
This is fantastic for employability opportunities. Also, the choreography involved developing sports techniques which are relevant to the sports course such as using specific gross motor movements to increase speed.'
Watch the latest Puma advert featuring Yaya Toure, Sergio Aguero and students of The Manchester College:
https://twitter.com/pumafootball/status/684358455872761857
https://twitter.com/pumafootball/status/686554856362921984