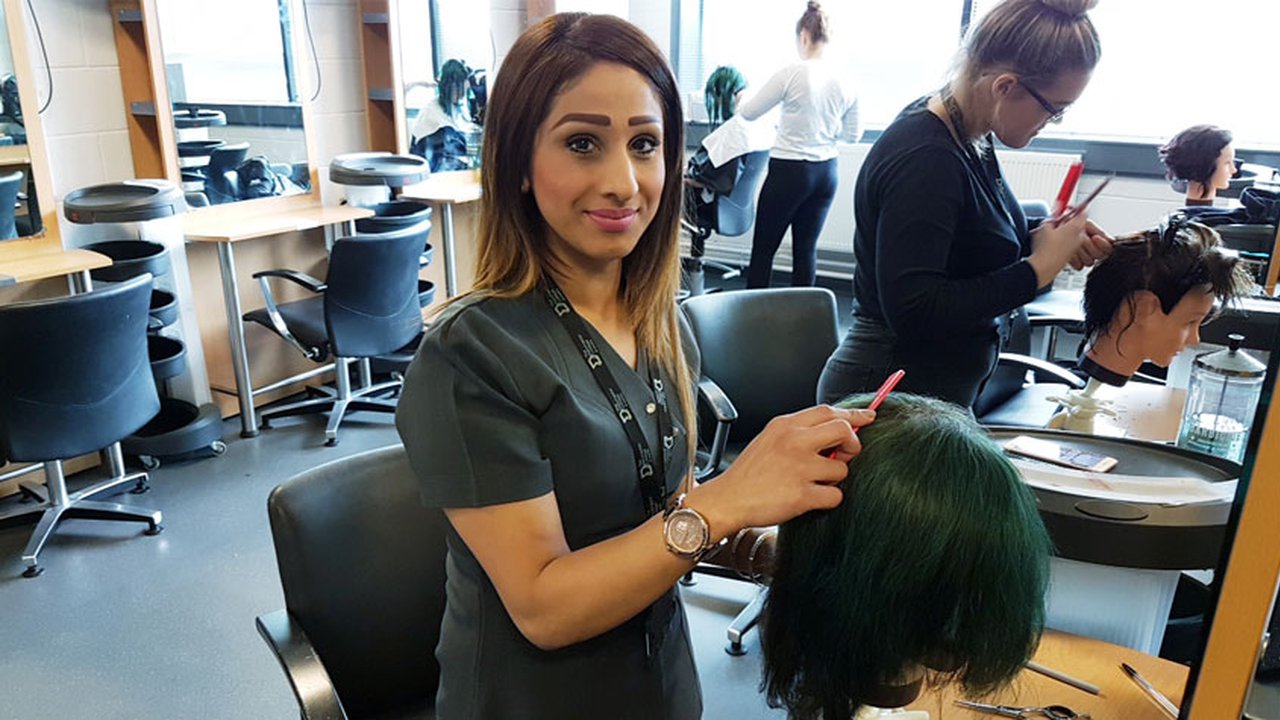 Hair and Beauty students are a cut above
During #didyouknow Hair and Beauty week (1-5 July), our Hair and Beauty students told us the reasons why they chose The Manchester College to get career ready.
Neelam Kahn, Level 2 Hairdressing (pictured)
"I've learned a lot on my course, such as different cutting techniques, dyeing application, colour and cut, and I would definitely recommend it. I'm a mum with of three boys and I thought it would be a challenge to juggle study and childcare but coming to The Manchester College has been really convenient for me and the tutors have been really understanding.
"I've always been interested in hair and, after having my kids young, I'm now ready to make a career for myself in hairdressing. I'll be starting my Level 3 Hairdressing course here in September."
Aoife Hulme, Level 2 Hairdressing
"I'm already working in a salon, but I want to work full time as a hairdresser and also to own my own mobile hairdressing. Studying at The Manchester College has definitely improved my overall hairdressing technique.
"I've studied a make-up course here as well and I'm starting my Level 3 hairdressing in September. This college is better than others I've been to because it has smaller class sizes and the tutors are really helpful. A qualification shows that you have the right background and you've worked hard to achieve that qualification."
Charlie Holt, Level 3 Hair and Media Make-up
"Being at The Manchester College is fun. It's a good course and you do learn a lot. I like doing make-up anyway so I'm in my element. You get a lot of help with work experience and my tutors Hannah and Lisa help you with a lot of things such as with CV's. 
"The Manchester College has a dispensary where you can get a lot of hairdressing equipment, and airbrushing which costs a lot of money, and all the wigs and the pastiche that you have to use, so they do provide you with quite a lot. My dream is to do celebrity make-up. I also want to work at a salon, and keep progressing."
Michael Ward, Level 2 Hairdressing
"I thought I knew a lot already about hairdressing but at The Manchester College, I've learned how to cut properly and to blow dry to a professional level, it's just been amazing really. I've enjoyed learning something new every day and just getting more knowledge. Ultimately, I'd love to work in the film industry but I'm glad I have my hairdressing skills to fall back on."
If you're interest in starting, or progressing, a career in this exciting industry find out more about our varied range of Health and Beauty courses.