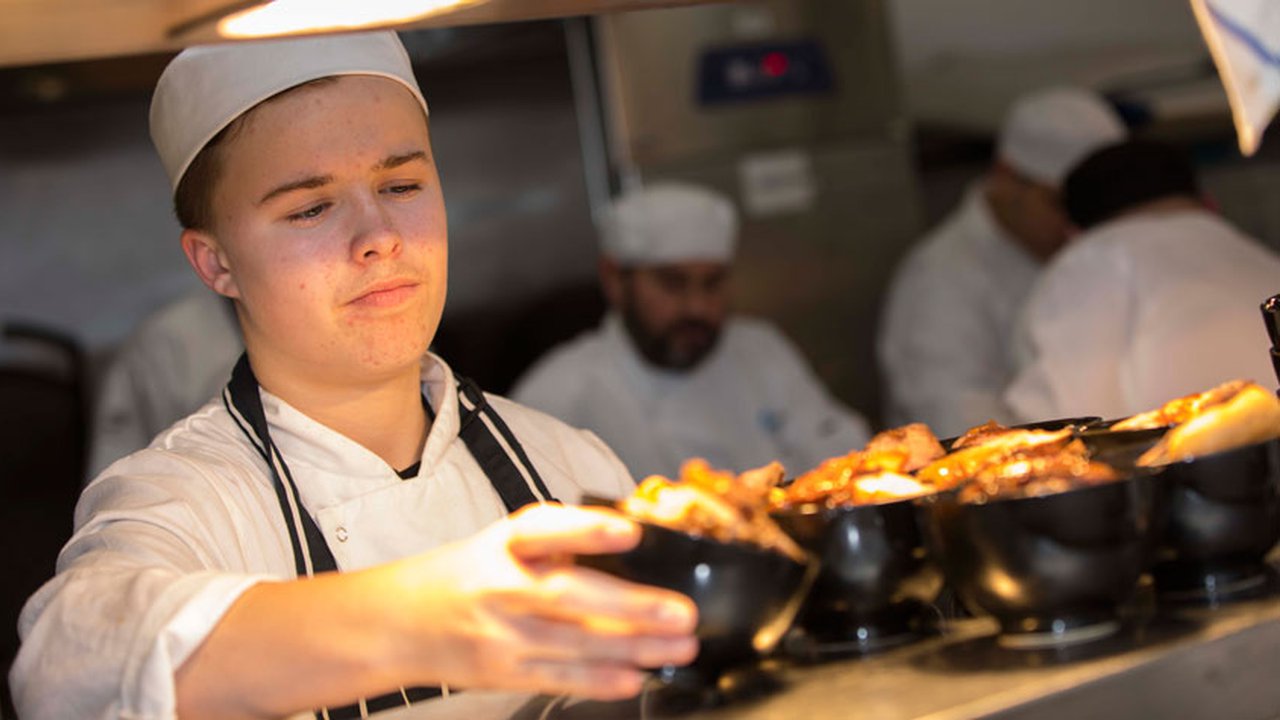 Staff at Manchester's iconic Hilton hotel enjoy belated Christmas party with the help of The Manchester College students
Staff at Manchester's iconic 'Hilton Manchester Deansgate' hotel enjoyed a belated Christmas party, on Sunday 28 January, with the help of students from The Manchester College.
Further education students from The Manchester College supported the city centre hotel to deliver their 2017 staff Christmas party in style.
The Studio 54 themed event took place in one of the venues most luxurious rooms, the Deansgate Suite. Over 150 members of staff in attendance were able to choose from numerous culinary delights, including Chicken foresstier with panache ve and Roast strip loins of beef with bordelaise sauce.
Students provided support with everything from preparing the exquisite menu (devised by Team Leader Howard Wallace), to service and entertainment, ensuring all the staff had a night to remember after another demanding festive season.
Maxine Gunning, Head of Department for Service and Retail Industries at The Manchester College, arranged the work experience opportunity for students and attended the event to witness first hand their hard work. Maxine said: "What a fabulous party! Our students did an unbelievable job and I am extremely proud of them.
Supporting the Hilton Manchester Deansgate to deliver their staff Christmas party has given our students invaluable work experience with one of Manchester's premier venues. Part of our role as educators is to ensure that our students are ready for work or further study when they graduate, and partnerships are vital to fulfilling this responsibility.
"We also have experience of a student going on to gain a full time role with the hotel, so there is the real possibility that work experience placements can turn into job opportunities for our students at the end of their respective courses."
Stuart Duff, Executive Head Chef at the Hilton Manchester Deansgate, gave his thoughts on the partnership and The Manchester College students he worked with. Stuart said: "Giving learners from The Manchester College the opportunity to gain industry experience in the work place will benefit them hugely when they come to entering the job market, because they will have acquired skills which employers are looking for.
"The future careers of the learners that supported the event can be shaped by myself and staff at the hotel. With the right attitude these learners have the potential to be future full time employees."
Students from numerous courses (across Levels 1, 2 and 3) were involved in the event, including General Cookery, Professional Cookery Services, Air Cabin Crew, Performing Arts (Dance) and Music Performance.