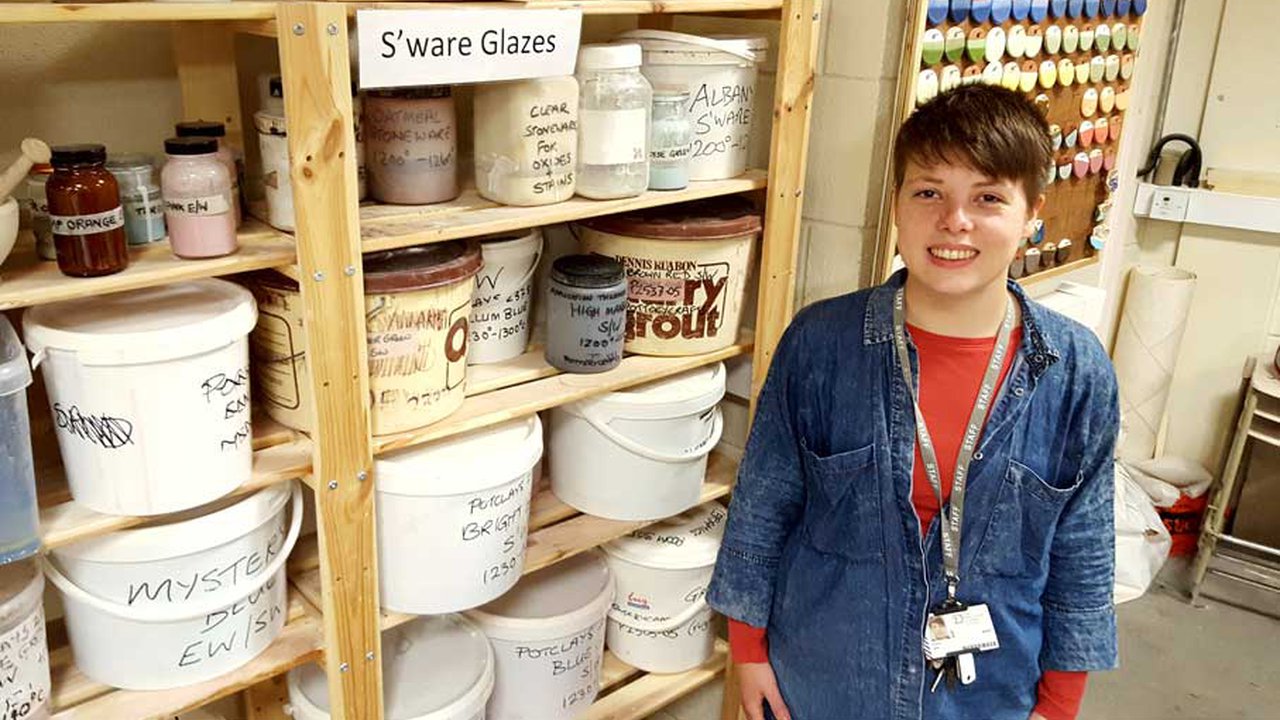 Art and Design's Grace Igoe on how the College has shaped her
Former The Manchester College student and current College employee Grace Leigh Igoe on how the College has shaped her career. Grace, who studied Level 3 Art and Design, followed by our one-year Jewellery course, is now an Artist-in-residence at the Northenden Campus.
What attracted you to The Manchester College?
Mainly the facilities! I went along to an open day, spoke to a lot of different tutors and had a tour of the creative spaces. I was so impressed by what was there, such as the woodwork shop, the ceramics, and the photography work on display. It introduced me to so many different mediums and ways of working that it really broadened my mind but also helped direct me to the field of art I wanted to pursue – which isn't an easy feat when you want to have a go at everything!
I'm so glad I came. If I didn't have my time at The Manchester College, I don't think I'd be as passionate or creative as I am. It has given me the opportunity to further my concepts and practice.
Did you enjoy your course? 
Yes, I loved it. Originally, I was unclear on what to specialise in, so I wanted to experience lots of different fields of art.  The course gave me so much experience; I learned how to design, solve, and be critical, how to gather research, and how to push and develop my work. I learned all of that here and then built on that at university.
The equipment is amazing! I was introduced to ceramics and metal and decided to pursue this by completing a one year BTEC Jewellery course here, after completing Art and Design. I learned the basics of slab forming, glazing, texturing, slump moulding and slip decoration – it opened up a whole new world for me!
What were your highlights?
I got to experience actual print-making techniques and soldering metal. I also loved learning how to use Photoshop and make quality photos in a photography room using high-tech equipment. In addition I learned laser-cutting, how to create a professional portfolio and how to effectively self-analyse my work, in addition to team management and problem-solving skills.
Working with colleagues and peers was another massive skill that I gained. We did practical work based on outside exhibitions and real-life competitions were given as live briefs. It allowed us to gain industry experience.
Were you supported?
Absolutely! After my three years, I had developed a really good portfolio but, due to having dyslexia and autism, I struggled to get the required C grade in English and maths that I needed for entry to my university course. To help me prepare for my entry interview, my tutors taught me how to speak formally, how to write and evaluate critically and effectively and how to organise my work. But the main thing was they instilled confidence and belief in yourself.  I was so lucky to have that support, I found my passion here.
How did you become The Manchester College's Artist-in-residence?
After hearing about the position and being successfully interviewed, I started in the position a year ago. In my role I specialise in ceramics and provide plaster workshops; lecture; one-to-one help with design processes; help with the development of current students ceramic pieces etc. I also provide business talks regarding how to be a self-employed practitioner and how to price yourself.
I missed being a creative student in a creative atmosphere, where you can critique and challenge each other's perceptions of art.
When you come to the College, you get the thrill of art, the energy, the excitement. There's always someone with a passion to create something, it's infectious - it makes my work better and keeps it fresh.
What advice would you give to anyone thinking of applying to study Design and Visual Arts with us?
Do it! The staff here are amazing – they want you to further your work, further yourself and do well. They push you out of your comfort zone and help you see life and work outside of the College walls.
The facilities are also second-to-none. I've been to lots of other colleges to give talks and they don't have facilities like this – print-making is hardly done these days for example, and the jewellery equipment is brilliant.
---
To learn more about life as Design and Visual Arts student at The Manchester College, come along to our school leaver open event on Tuesday 9 July anytime between 2-7pm.