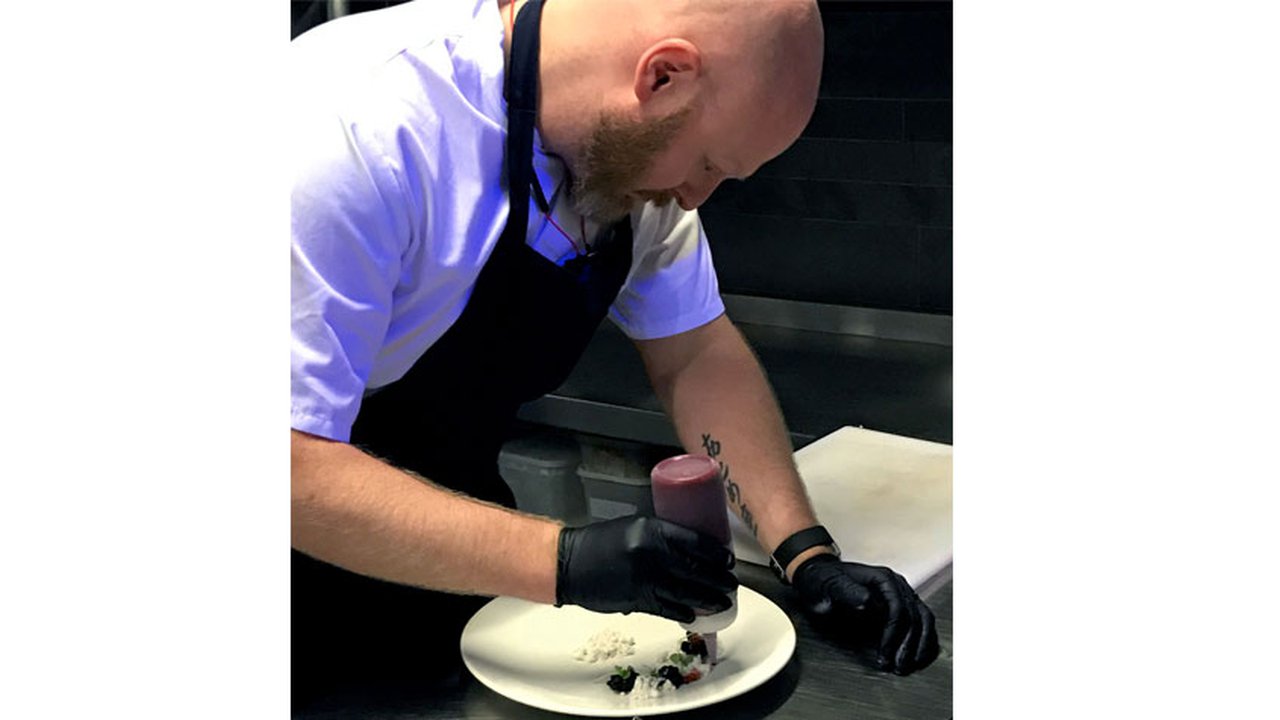 Ian is king of the kitchen thanks to The Manchester College
June is the Festival of Learning's 'Have a Go Month' and we are taking the opportunity to celebrate adult learning across our Group.
The Festival of Learning is the biggest celebration of lifelong learning in England. We talk to student Ian Brooke about how returning to education has changed his career - and his life.
Pursuing a passion in patisserie with The Manchester College has proved life changing for one adult learner.
Ian Brooke had been working in customer relations for a mobile phone company, but left after signing up to the Level 2 Certificate in Patisserie and Bakery based at Fielden campus in September.
The 38-year-old has now swapped handling calls on bereavement and critical illness to working at Australasia, one of Manchester's top dining venues - even before his course had finished!
Ian said: "I enjoyed baking and getting involved in bake sales to raise money for charity, yet it never felt like it was enough. I didn't feel that my creative talents were being utilised.
"Manchester College has a great reputation for its courses. The campus was in the perfect location for me to easily fit my studies in around my full-time position and the facilities are top notch both in the kitchen and the library."
Industry connections and student links saw Ian recommended for the position of pastry chef before he had even qualified. The talented chef now combines study with work at the city centre venue, which delivers modern Asian fusion cuisine with a focus on 'Pacific Rim' flavours.
Ian said: "There have been a number of surprises - the long hours, the necessity to organise your time and be as efficient as possible, but also just how much I enjoy what I am doing! I plan to complete my studies at a Level 3 before going on to study culinary arts at degree level.
"I would definitely recommend the course as the combination of practical lessons with my very experienced tutor and the theory lessons have been both interesting and eye opening at every stage.
"Studying at The Manchester College has directly changed my career path and the skillset I have, and I would recommend the course, my tutor and the college to anyone."
Lead tutor Mark Cooper is an expert in the patisserie field, having gained a top qualification at the Master Patissiers Academy in Stuttgart, Germany, before working at exclusive establishments including The Ritz Carlton in Indonesia and the Queen Elizabeth II cruiseliner.
His links with some of the city's most highly regarded chefs mean students have been offered work placements at top dining venues including The Lowry Hotel, The Hilton Deansgate and Hotel Gotham.
Mark said: "The Manchester College has a steady supply of students reaching the highest industry standards that chefs require these days.
"What is unique about our course is that those very chefs will take time out from their executive schedule to attend the college on assessment days and give the students professional feedback and advice on what they have produced.
"This shows their commitment to supporting the next generation of pastry students coming through the ranks."
Students on the year-long course must pass units covering catering theory, food safety and food preparation, as well as practical assessments on patisserie, artisan bread, finishing techniques and chocolate work.
Find out more about studying Patisserie and Bakery  at The Manchester College.
Or sign up to the UCEN Manchester Open Day on Saturday June 30 to discover the wide range of higher education courses available.