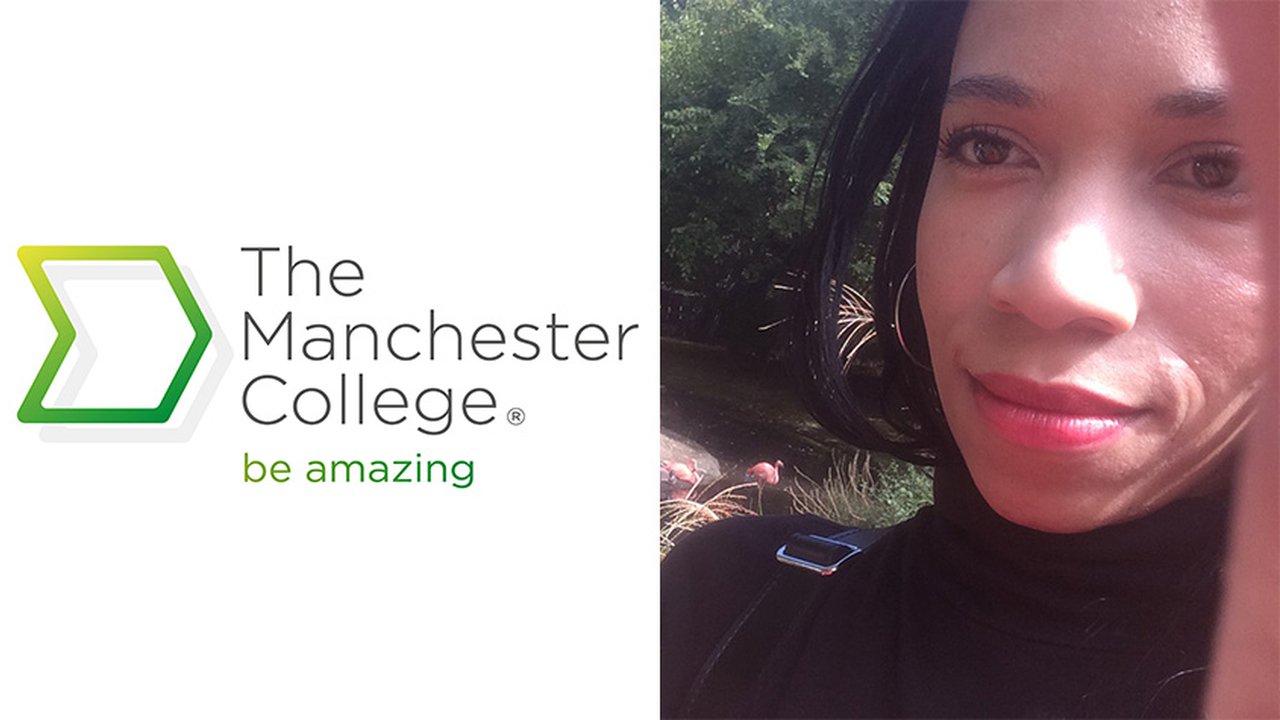 Jeneve clinches Cambridge place after life-changing course
Since returning to College after ten years out of education, Jeneve says her Access to HE course has given her a fresh outlook on life.
A student from The Manchester College is celebrating after securing a place at the University of Cambridge, following a life-changing year on her Access to HE course.
Jeneve Hines-Braham's previous experiences in education had left her disillusioned but after a decade away, she decided to enrol on an Access to HE in English, Writing and Media course.
And thanks to an enriching curriculum and the support from College tutors and support staff, the 28-year-old is all set to study English at Cambridge, from October.
Below, we spoke to Jeneve about her fantastic achievement, her year at The Manchester College and her hopes for the future.
You can find out more about the Access to HE courses with our partners UCEN Manchester and apply today.
 
How did you feel when you got the acceptance letter from the University of Cambridge?
It was very surreal. It didn't sink in at first because I knew I had other pieces of coursework to do. I didn't feel like I could relax, it just felt like another stage of the journey. It still hasn't sunk in completely. I feel like once I've received my certificate and once certain thing are finalised, I'll feel like I can breathe.
What was the application process like?
I had to apply through UCAS, then I had to do a further application and interview.
What are you looking forward to about studying at the University of Cambridge?
I'm most looking forward to meeting people who are like-minded. Throughout my education, I've had issues connecting with like-minded peers; succeeding and doing well had previously made me a target for bullying at school. Because of that, I shielded away from education and pursuing higher education, so being accepted into Cambridge was an extremely positive thing for me personally. It's shown me that, yes, things have held me back in the past, but I can still achieve what I want.
Why did you want to return to education?
I wanted to come back to education because I'd worked a lot of dead-end retail jobs and I didn't feel valued or appreciated in those realms. I did those jobs because I thought I didn't want to deal with the stress of education, so I picked seemingly straightforward jobs to get me by. But I actually found these jobs to be very stressful and within those arenas, people utilised my people-pleasing nature and abused that.
I realised that if I was going to stay in those limiting jobs, I wasn't going to get the opportunities that I deserved and that I really wanted. I needed to look at broadening my horizons and opening my mind. That's why I decided to come back to College.
The pandemic happened as well and that made everything super real. I had felt the need for change before the pandemic, but it made me want to do something immediately.
What was it about The Manchester College that made you want to study here?
The main reason I picked The Manchester College was the curriculum. From what I saw, it looked like a lot of topics were covered, especially with the English Literature aspect. I started on the History and English course and really enjoyed the History aspect but felt like I needed to play to my strengths more.
With the help of my tutor, Dr Shelley Deasey, I moved to the English, Writing and Media course where I could really utilise my strengths.
What has been your favourite topic or module?
That's a really hard question. In terms of enjoyment, I would say the last module we did in English, which was analysing a novel and using literary theory to analyse and dissect it. I chose The Handmaid's Tale and I really enjoyed looking into the social and historical context of why Margaret Atwood wrote the book. It was a very rich text, and I like projects where I can analyse in depth.
The creative modules were excellent. They were really therapeutic in the sense that I could just express myself. The media aspect was really educating and helped me understand how the mainstream media works. It's been an amazing course.
How have the tutors and support staff helped you?
Shelley Deasey and Glenn Meads have been amazing. They've both been extremely supportive. I remember the first lesson I did was an English lesson. I did the exercise that Shelley has asked of us and she was so complimentary and supportive of the work, right from that first instance. She sent me e-mails saying that I did really well and it just felt like recognition, even at that first stage. She was someone who was supportive and who wanted the best for the students. She would be critical in the most positive way, recognising when a lot of effort has been put in and a high standard of work had been produced. In the past, I hadn't always had that. As a young student, I had experiences where I felt some of my teachers hadn't been supportive and given criticism but not balanced it out with anything positive. That made me doubt myself and my ability, which had a very negative and long-term impact on my wellbeing.
In terms of the consistent and ongoing support from my tutors, I would say the same about Glenn as well; he always balances his feedback and it is always constructive and practical. There have been times when we've been studying topics that have been personally difficult for me and he has provided support in that way as well, by offering further support from other college services. I've always felt better after classes and after speaking to Glenn.
Both Shelley and Glenn also supported me with my university application from the beginning. Shelley helped us with our UCAS applications. Before I started this course, I would never have put in a UCAS application, let alone apply to Cambridge. I had a lot of doubts and didn't think I would get any offers but Shelley reassured me and helped me quiet my inner critic.
There is so much I have to say about Shelley and Glenn, that is the tip of the iceberg! They have just been amazing and a lot of other students have said the same. They put so much into our course and that is what makes the difference. More than just the grades, I'm leaving the course with a different state of mind and a different outlook on life. That's priceless because that's what is going to help me in the future. I have a very positive and enhanced sense of self and the course has helped me to appreciate myself.
I'd also like to say thank you to student mentor Adella Grant. She did a workshop about time management and I was the only person on for the first segment of the workshop. She really gave me a lot of her time and energy and she didn't have to do that. Sam Juleff, from the Careers & Welfare Team has also helped me a lot, so thank you Sam.
What are your long-term career goals?
I feel like I would like my work, whatever it is, to help people to develop their own voice and feel empowered to express themselves. I don't have a set plan but that's where my heart is at the moment. This is because self-expression has been one of the major challenges that I've had, and that I am still overcoming. I feel like education is so important in helping people to feel that sense of empowerment and to get a qualification to back that up. I look at where I was before I started this course, when I felt a sense of frustration as I had potential but didn't know how to express it. Being on this course has encouraged me to express myself, push myself and achieve the best that I can, and I feel like everyone deserves the opportunity to do so.
Not everyone has been lucky enough to have that from the start. At The Manchester College, the tutors want everyone to do well and want everyone to thrive. If everyone has that opportunity, it can be life changing.