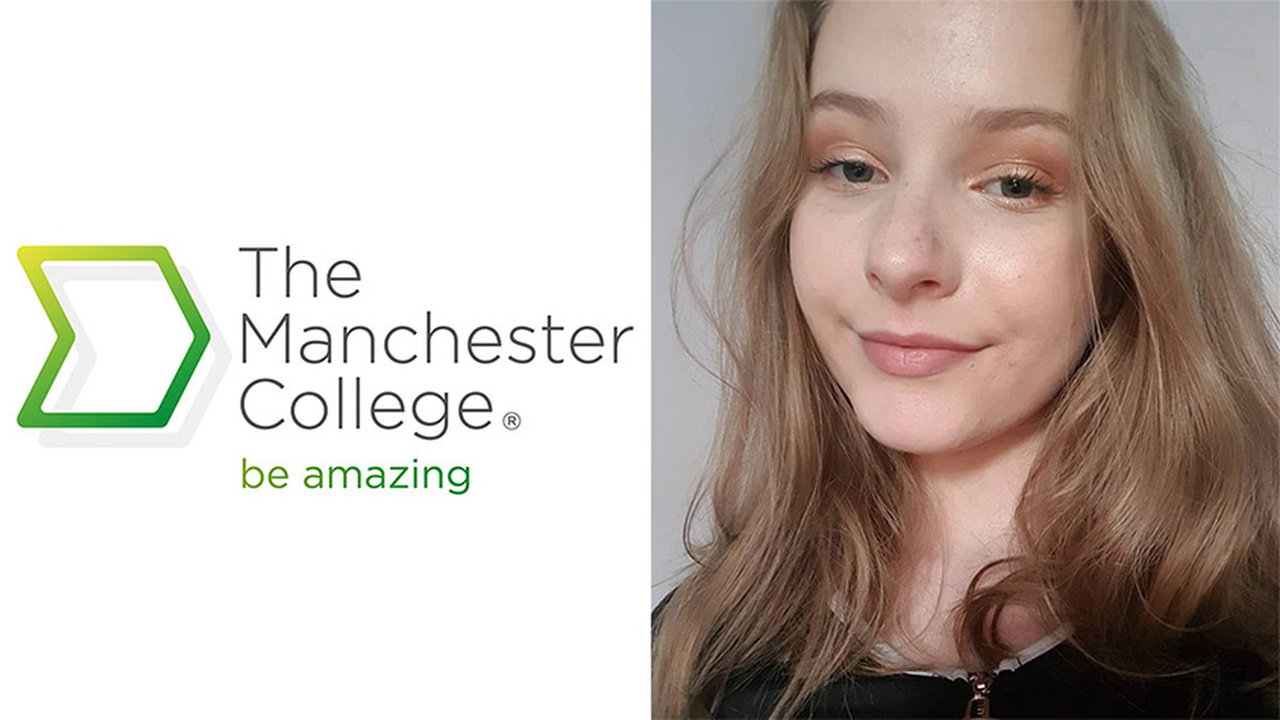 Madelyn's lockdown video wins DEVA/Hack competition
A student from The Manchester College has won the Digital Entrepreneurs and Video Artists Hackathon (DEVA/Hack) for the second year in a row.
Madelyn Brennan, a first-year Level 3 Creative Media student at the College, won the prize after producing a short video about keeping in touch with friends based on her experiences during lockdown.
DEVA/Hack is an annual three-day workshop from the IN4.0 Group and the Salford Foundation, aimed at developing students' digital skills and confidence while giving them space to build their digital portfolio.
Madelyn said: "I really enjoyed the whole experience as it gave me a creative outlet that I could use over half term. I've really struggled with loneliness over lockdown, as I'm an only child and barely get to see any of my friends, so I wanted to use those feelings as inspiration for my film, and to also let people know who feel like I do that you're not alone"
Madelyn is the second College student in a row to win the DEVA/Hack workshop, following on from Stoyan Bekyarov's success last year.
Explaining why Madelyn stood out from the crowd, DEVA/Hack mentor Amrit Singh said: "We look at different variables when choosing a winner at DEVA/hack, from punctuality and attending all the sessions to following the brief. Madelyn ticked all the boxes and followed the brief brilliantly.
The video was 30 seconds or under, it was shot in full ratio portrait and she was on camera along with clever use of b-roll footage. There was a fantastic use of voiceover, on screen text and music which made Madelyn's video overall technically strong with a powerful narrative.
Madelyn's College tutor, Conor Hanifian, added: "Madelyn has started this year focused and driven to achieve the best she possibly can. Taking part in the DEVA/Hack competition for three days and winning demonstrates the commitment to her craft and adaptability to working differently with Covid-19".
DEVA/Hack was first launched in 2018 and usually takes place at Media City and Salford University. However this year, the Hack took the form of an online digital bootcamp.
Emily Slater, Digital Education Coordinator at the Salford Foundation said: "The aim of DEVA/Hack is to create an employability resource for young people designed to support them develop and articulate their professional career identity. 
"By engaging with students to create video content, we are encouraging them to develop their digital skills, stay motivated and do something positive! This also presents an opportunity for them to connect with other like-minded students and receive valuable careers support from inspirational mentors, employers and university staff."
You can find out more about the industry partnerships at our Industry Excellence Academy for Creative & Digital Media and apply today.