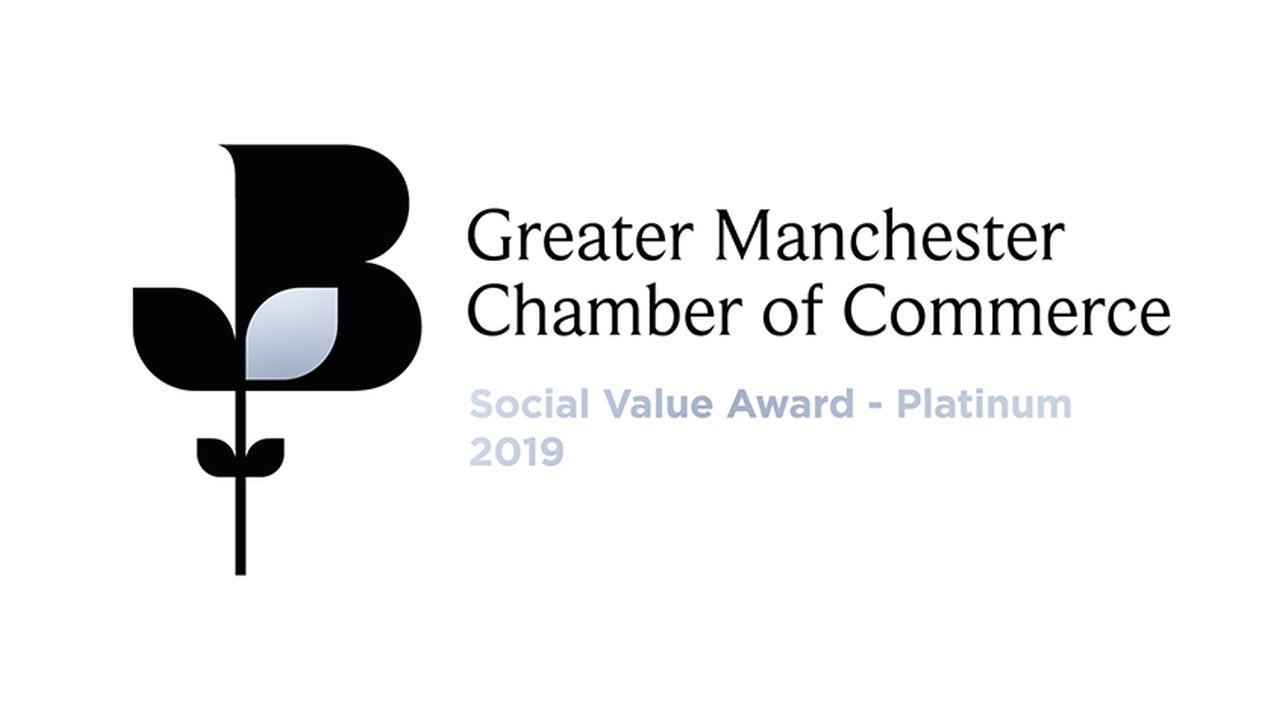 The Manchester College hits platinum with Greater Manchester Chamber of Commerce
The Manchester College achieves GM Chamber Platinum Social Value Award for 2019.
The Manchester College has been awarded a Platinum Social Value Award by the Greater Manchester Chamber of Commerce in recognition of its participation in a range of local business and community initiatives.
To achieve the award the College participated in 10 interventions throughout the 2019 calendar year. Interventions are defined as participation in a variety of events, including offering mock interviews, guest speaking, work experience offers or participating in an industry board.
The College achieved its tenth intervention when Emma Ward, Head of Childhood Studies and Counselling, participated in an industry board in December 2019. The 'Taking Teaching Further' project helped to inform the LMI E-Toolkit, an essential teaching resource, providing models and potential solutions to address issues including gender, pay and social mobility gaps. It also provided up to date analysis and insight on the North West's skills shortages and employment opportunities. 
Commenting on the achievement, Emma, who was involved in a number of interventions during 2019, said: "The Chamber of Commerce runs a fantastic range of initiatives which are highly relevant to both us as a College and the Greater Manchester economy. Participating in these 'intervention' activities enables us to gain a greater understanding of a range of issues and help shape conversations around how they can be addressed. I'm delighted to see our contributions recognised with a Platinum Social Value Award."
The GM Social Value Awards were set up in May 2017 to recognise the time and hard work donated by companies that give back to the local community.  The Awards are issued annually, on a tiered system ranging from Bronze to Platinum, depending on the number of interventions to which time has been donated.
The GM Chamber of Commerce categorises social value as:
Working together with businesses to grow their resilience to include the development of local skills and jobs
Positively influencing the number of, and impact volunteers make in communities
Leading by example and helping guide the quality, type and amount of socially responsible decisions businesses make that have a positive impact in their community.
Principal Lisa O'Loughlin commented: "The College strongly believes in making a positive and meaningful contribution to the communities that we serve that goes beyond the classroom. Our participation in these initiatives is an essential part of achieving this goal and I am delighted that this has led to us receiving the Platinum Award.
I'd like to thank all colleagues that contributed in the last 12 months to us achieving this level of participation with the Greater Manchester Chamber of Commerce.