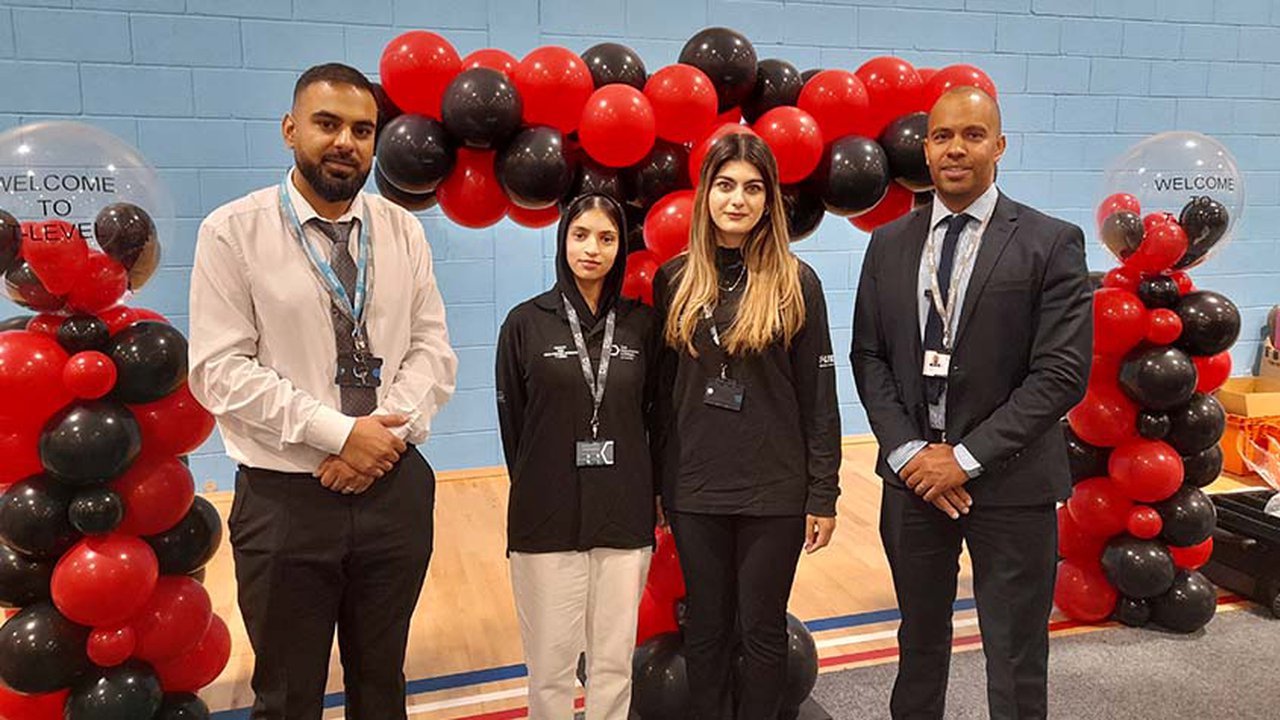 The Manchester College throws support behind national T Levels Week
Hundreds of students on T Level and T Level Transition Programme courses at The Manchester College attended two celebratory events during national T Levels Week to signify the start of another year of delivery for the new qualification.
During the events, which included a buffet lunch and sweet treats, staff from the College's Business Management and Administration, Construction, Digital, Education and Childcare, Engineering and Manufacturing, Health, and Science courses handed out branded stationary and clothing to T Level and T Level Transition Programme students.
There was excitement in the air at both celebrations, which took place in the College's state-of-the-art sports facilities at its Openshaw Campus and main theatre at the College's brand-new City Campus Manchester, a state-of-the-art facility in the heart of Manchester city centre.
Students will wear the branded apparel they were given, which is tailored to each course, when they attend classes and take part in work placements with the College's employer partners.  They are also in line to receive laptops in the coming weeks to ensure they have everything they possibly need to achieve their aspirational goals.
One of the employer partners that attended the events was Morgan Sindall Construction, a leading UK main contractor.
 
Speaking about the business's relationship with the College, Gill Roberts, Morgan Sindall Construction's Social Value Manager for its North West region, said: "Working with The Manchester College has given us an opportunity to evolve our recruitment strategy and widens the talent pool we have access to.
 
"This year, 12 T Level students will complete a 45-day work placement with us and work on a wide-variety of projects across the North West.
During their placements the students will learn about our values and the standards of professionalism we expect from our employees.  They also get the chance to decide if we are the right fit for them.
Perhaps the most exciting announcement to come out of the events was the launch of a voluntary peer to peer mentoring programme, which will run throughout the year and see students in the second year of their T Level course mentor first year students, and students that have just started their T Level studies support students on the College's T Level Transition Programme courses.
Students Kashaf Nadeem and Tara Jabar (pictured alongside Tutor Mohammad Raja (left) and Assistant Principal Julian Smith (right)) both started their T Level studies in September after completing a T Level Transition Programme course last year. They were the first students to come forward and volunteer for the mentoring programme and are both really excited about the initiative.
Tara said: "I took a gap year when I finished school and worked as a Care Assistant for 12 months before returning to education and completing a T Level Transition Programme course with The Manchester College. 
 
"The time I spent in industry has taught me a lot of lessons that have benefitted me during my studies. I have a good understanding of what employers are looking for and I hope to pass this knowledge on."
Kashaf added: "You have to complete a lot of assignments during the T Level Transition Programme so that you're prepared for the practical elements of the course and are ready to progress to Level 3.
"I can talk with confidence about what I learnt last year and offer my perspective based on personal experience."
Learn more about the wide-range of courses available at The Manchester College, or take a look at the dedicated T Level page for more details.