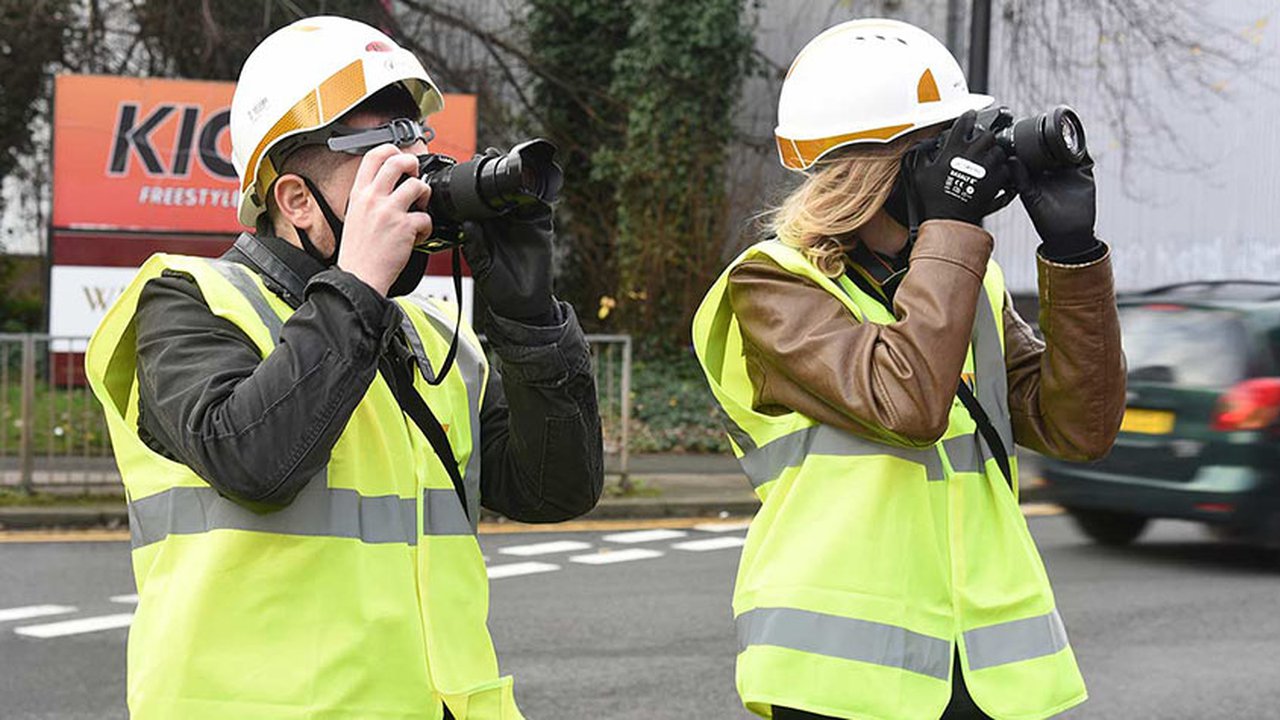 Photography students snap Jason Manford at new city centre campus
Jake and Rhodri photographed the Manchester comedian as they record key moments in the College's city centre campus build.
Two Photography students have been rubbing shoulders with celebrity as part of a work experience project around the College's new city centre campus.
Students have been tasked with recording key moments in time for the new campus, which includes tracking the exciting progress being made on the build.
The state-of-the-art campus, located opposite the Manchester Arena and Manchester Victoria station, will become home to the College's Industry Excellence Academy for Creative and Digital Industries.
It will include two industry-standard theatres and two film studios as well as media, computing and editing suites, recording and photography studios, dance studios and rehearsal rooms, and bespoke practical spaces for hospitality, media make-up and special effects.
So, when Jason Manford visited the campus to help the College launch its new high quality technical education strategy, Level 3 Photography students Jake Edwards and Rhodri Probert were given the opportunity to snap the Manchester comedian. 
Speaking about the experience, Jake said: "Jason was very professional. He has a lot of charisma and is used to having his photograph taken. I was looking to capture the shape and look of the new building, and I think I did that successfully."
Jake and Rhodri, both first year students, were chosen for the project by their tutor Harry Potts after displaying excellent teamwork in their studies so far.
Rhodri said: "I had previously done film at another college and didn't enjoy the course I was on. I've always enjoyed photography, so I decided to try it at The Manchester College. My tutors are very good. If I have a question it is answered straight away and they are more than happy to go into more detail. I've really enjoyed the photographic studio work and using the darkroom."
Jason is used to being snapped by students from The Manchester College, having previously took part in Greater Mancunians.
Greater Mancunians is a student-led, landmark project to photograph people born, bred, or who have made Greater Manchester their home and who have in some way shaped the city and its surrounding boroughs for the greater good.
So far, almost 70 local leading lights from the fields of music, sport, arts, entertainment, charity and politics have taken part, in what is a celebration of the Mancunian spirit. They've been full of praise for the students involved, with sports presenter Mark Chapman describing it as, "One of the best photoshoots I've ever done in terms of the photos, fun and professionalism on set."
Find out more about our Centre of Excellence for Design & Visual Arts and apply today.