Photography
Course Details
---
Qualification

Diploma

Subject Area

Visual Arts

Level

3

Age Group

16 - 18
Locations

City Campus Manchester
(Full Time - 2 years)

City Campus Manchester
(Full Time - 1 year)

Leaflet Code

L16649
Course Gallery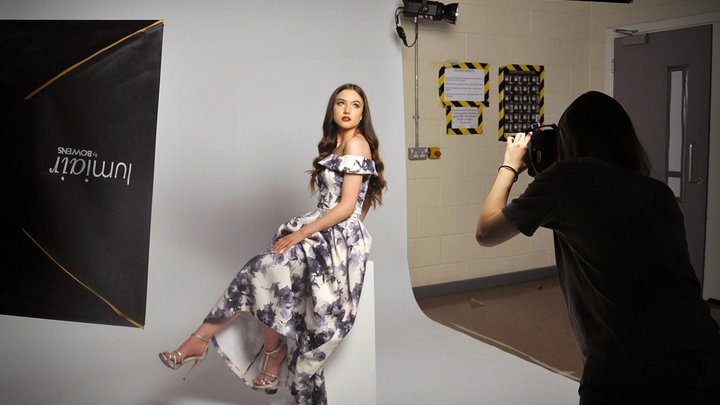 Do you have a passion for photography? Would you like to learn more about photography techniques and the photographic industry? If you could see yourself working for Vogue on fashion styling projects, photographing designer goods in far off places for high-end advertising campaigns, or capturing hard-to-reach wild animals for National Geographic magazine, this Level 3 Diploma & Extended Diploma is the course for you.
You'll cover an incredible range of genres on our dynamic photography course, including portrait, fashion, landscape, documentary, still life and experimental image making. You'll learn the differences between location and studio photography, and how to effectively organise photo shoots. From start to finish, you'll develop creative concepts and research plans, before taking the photos and then focusing on editing and specialist darkroom and advanced digital techniques in processing & printing.
A big part of the course will be getting out into the real world, and you'll spend a large amount of time taking part in live briefs, helping you to develop experience in working environments. You'll also have the chance to get involved with the 'Greater Mancunians' project, photographing the people who have culturally shaped the city. As with nearly all of our creative qualifications, this Diploma and Extended Diploma is awarded by University of the Arts London Awarding Body - the only specialist creative arts awarding body in the UK.
Please Click Here to view the specific entry requirements for our 16-18 Study Programmes.
Work Experience is a vital part of the course and you will be supported in finding a work placement relevant to your study.

During the early stages of the course, you'll complete a series of projects, with each receiving feedback to help you improve your skills and expertise. Your final grade will then be assessed via a final major project at the end of the year.
As part of the continuous assessment, you'll be expected to study outside of designated art and design studio sessions, attend exhibitions and galleries and do further contextual reading, all of which requires an additional commitment outside of normal course hours.
After completing this Photography Extended Diploma, you'll have the skills, experience and qualifications needed to advance onto a university-level course. The ideal next step could be a Foundation Degree in Contemporary Photographic Practices, right here at The Manchester College.
Alternatively, you'll have the expertise to progress straight into employment in the creative arts industry, with a range of roles to choose from that include studio photographer, photojournalist, events photographer and photographic lab technician.
Careers page
Along with any necessary course fees, you will be required to contribute to the cost of certain materials as part of your study and in the presentation of final portfolio and exhibition quality work. Any trips or visits are usually funded by yourself, but are sometimes subsidised by the college.
You'll find that there's lots of different support available to help you pay for College and finance your education, including tuition fee loans, special grants and bursaries, and a number of extra funding opportunities, depending on your circumstances. You can find out everything you need to know on our dedicated Fees, Finance and Funding page.
Fees, finance and funding page
Our course enquiries team is on-hand to answer any questions you might have about this qualification, the application process, enrolment, or anything else about life at The Manchester College.
Make an enquiry
Get Started...
Use our online form to complete your application.
Remember: you can start now, and save it for completing later.
Visual Arts
If you never stop doodling on scraps of paper or love nothing more than redesigning and upcycling your old clothes, then a course in Design & Visual Arts could be just what you need to express your creativity and hone your artistic flair.