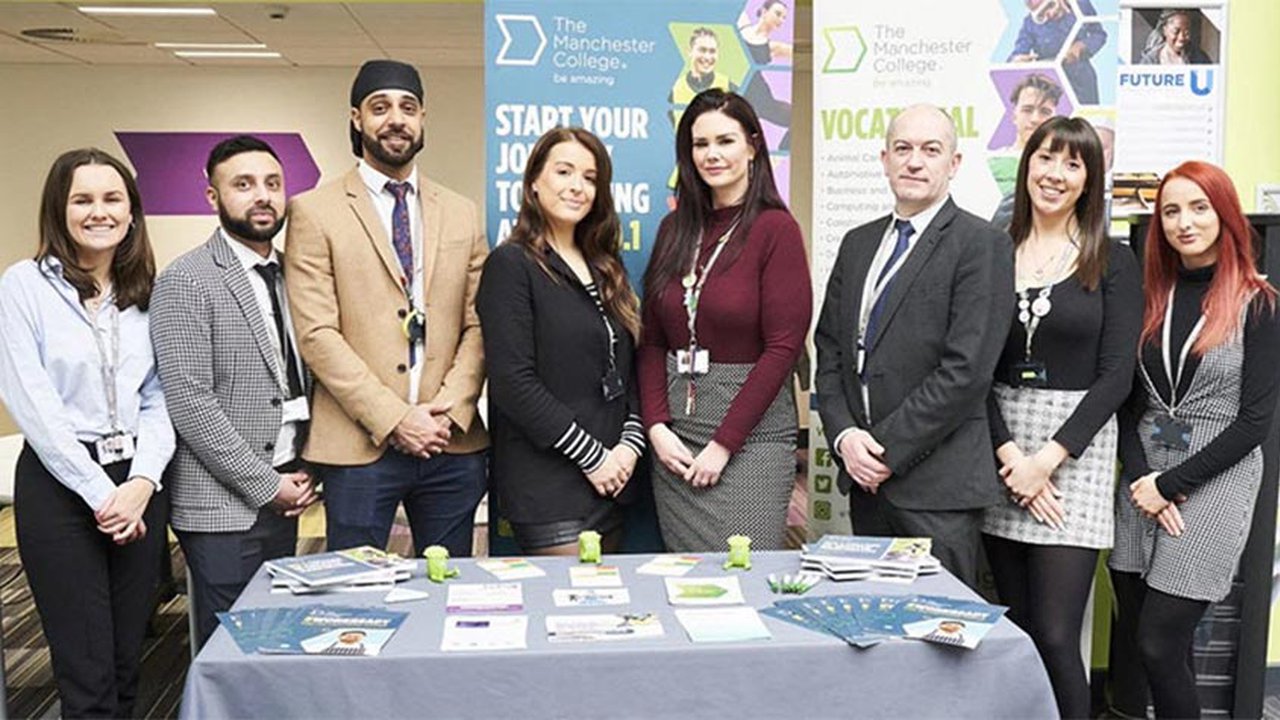 School Liaison Team blog
School Liaison Co-ordinators Camille Duke and Jessica Marney provide an update.
Welcome to the first edition of The Manchester College's School Liaison Team Blog. As we have been thrust into these quite uncertain times, the way we are working as a team and on the whole as a College is very different to the 'norm', so we thought we would share what we are up to and keep you updated through our monthly blog.
Each month we will update you with all the exciting things the team have been up too and also share any new developments within the College. We will be discussing a 'hot topic' each month, so watch this space! If you have any topics you would like us to discuss as a team and share our opinions on, please get in touch at SLT@tmc.ac.uk or 0161 674 3469. We are always welcome to new suggestions and ideas.
What have we been up to?
Well, what a difference six months has made! We are so happy that the Autumn term has come back around as it's one of our busiest time of the year. We've made some big changes to our school leaver packages and have been extremely busy over these past couple of months, preparing our new face to face and virtual packages and exciting new school leaver classroom sessions for schools.
The sessions include our new 'No.1 College in Greater Manchester' branding with lots of new exciting and engaging activities for pupils to get involved in. We are also very proud to announce the launch of our new Industry Excellence Academies and Centres of Excellence. We are offering a wide range of vocational and technical qualifications that will help pupils take the steps they need for that exciting careers. From September 2021 we will be the official provider of the new T Levels, and you can read more about these below.
It hasn't stopped there! We have also been spending a lot of time getting our heads around using Microsoft Teams to deliver virtual assemblies and classroom sessions. It's been a great learning curve for the team, and we were so excited to deliver some of our first virtual live sessions to schools across Greater Manchester including Burnage Academy for Boys, Chorlton High School, Droylsden Academy, Wardle Academy and The Barlow RC High School.
It has also been nice to get back to some normality as we have been able to continue going into some schools to deliver Covid-19 secure assemblies, including at Hulme Hall Grammar School, The Radclyffe School, St Paul's Catholic High School, Buile Hill High School, St Anne's CofE Academy and Our Lady's RC High School, to name a few!
Members of our School Liaison Team have also been out at COVID secure careers fairs, meeting the new cohorts of Year 10's and 11's. Camille and Ellie from the team had a great time at their first careers fair of the year at Reddish Vale High School. We would like to thank those schools that have continued to work with us during these uncertain times to support young people in Greater Manchester with their next steps and careers.
During the start of lockdown, we started a fortnightly Connect2College Schools Liaison bulletin to keep schools and sixth forms updated with what's happening at the College, support for schools and pupils, updates on college events and lots more. If you are interested in working with us, or would like to be added to our Connect2College bulletin mailing list, then please contact us on: slt@tmc.ac.uk or 0161 674 3496.
For all information on what the Schools Liaison Team does and can offer your school, visit our section of The Manchester College's website.
EdTech Demonstrator Programme
The DfE funded EdTech Demonstrator programme is focused on improving the quality of education and we are supporting teachers and middle leaders in the effective use of online learning. As one of thirty-eight EdTech Demonstrator schools and colleges, we are delighted to support both secondary schools and colleges in identifying and addressing immediate needs whilst developing the long-term capacity. Using this link, you will find a series of introductory webinars we have recorded that will explain the key features of MS Teams and how to access use them in synchronous and asynchronous teaching. The webinars are designed in a way that will get you thinking about how you will apply the platform to your pedagogy and context.
Open Events – TMC Live
You may have seen that we have hosted our first EVER 'TMC Live' virtual open events. We were so excited as a team that we have been able to work together as a college to bring these amazing opportunities to the pupils we work with. We had almost 1000 registrations for the events over the course of four evenings. The top attended sessions included:
Engineering
Performing Arts
Public Services & Criminology
Childhood Studies
Health & Social Care
Sport
We are now looking forward to the next TMC Live events from Monday 23 November until Thursday 26 November. Visi our events page for further information. If you didn't get a chance to watch the previous TMC Live events, or would like to revisit any of the sessions then head over to our YouTube channel to watch all the exciting content.
This month's 'Hot Topic' - T Levels
Have you heard about the new T Levels? The government are promising that they will simplify the process of vocational training in England. But what are they?
What are T Levels?
T Level is short for 'Technical Level'. T Levels are a new two-year technical qualification for those aged 16 -18 and will provide students with a high-quality technical alternative to A Levels, combining classroom learning with an extended industry placement. They will become one of four major options for students to study at Level 3, alongside vocational pathways, apprenticeships and A Levels.
T Levels are designed with employers to give young people the skills that the industry needs. They will provide a mixture of:
Technical knowledge and skills specific to their chosen industry or occupation
An industry placement of at least 315 hours (approximately 45 days) in their chosen industry or occupation
Relevant maths, English and digital skills
They are equivalent to three A Levels and will be graded in a similar way.
What will The Manchester College be offering?
From September 2021 we will initially be offering T Levels in four subject areas:
Construction
Computing and Digital
Education and Childcare
Healthcare and Science
There will also will two entry pathways to T Levels
T Level Transition Programme
The T Level transitional programme has been developed in a way which will focus on providing an effective preparation for students to complete a T Level. It will be targeted at young people who are not ready to start a T Level at age 16 but who can realistically be expected to complete one by age 19. The T Level Transition Programme will support students to develop their academic skills, technical skills, knowledge and behaviours required to complete a T Level through tailored provision that supports their progress.
Direct Entry
If a student has achieved the required entry criteria and can provide supporting information required for the individual course, then they can apply for direct entry to the T Level of their choice.
When the student has completed their journey in our Industry Excellence Academy they will have the qualifications they need to take the next steps towards studying further at University or starting their amazing career, as well as the experience and skills that will help them stand out to future employers.
What do the Schools Liaison Team think of T Levels and why students might want to consider them?
T Levels are great if a student wants to do something that is more practical, hands on and directly geared towards a specific field of employment. They're ideal if the student has a good idea of what they want to do in their future career and are keen to start getting some fantastic work experience opportunities with some of the biggest employers in Greater Manchester.
Even if the student doesn't know exactly what they want to do, T Levels are a great way to spend two years diving deeply into a subject area that interests them – and they never know what they might learn or what doors might open up as a result. The wonderful thing about T Levels is that the subjects on offer will be as diverse as the students studying them! All that matters is that they have a passion for the subject and are willing to work hard to succeed.
Head over to our Industry Excellence Academy website to find out further information on the courses The Manchester College has on offer and to make a college application.