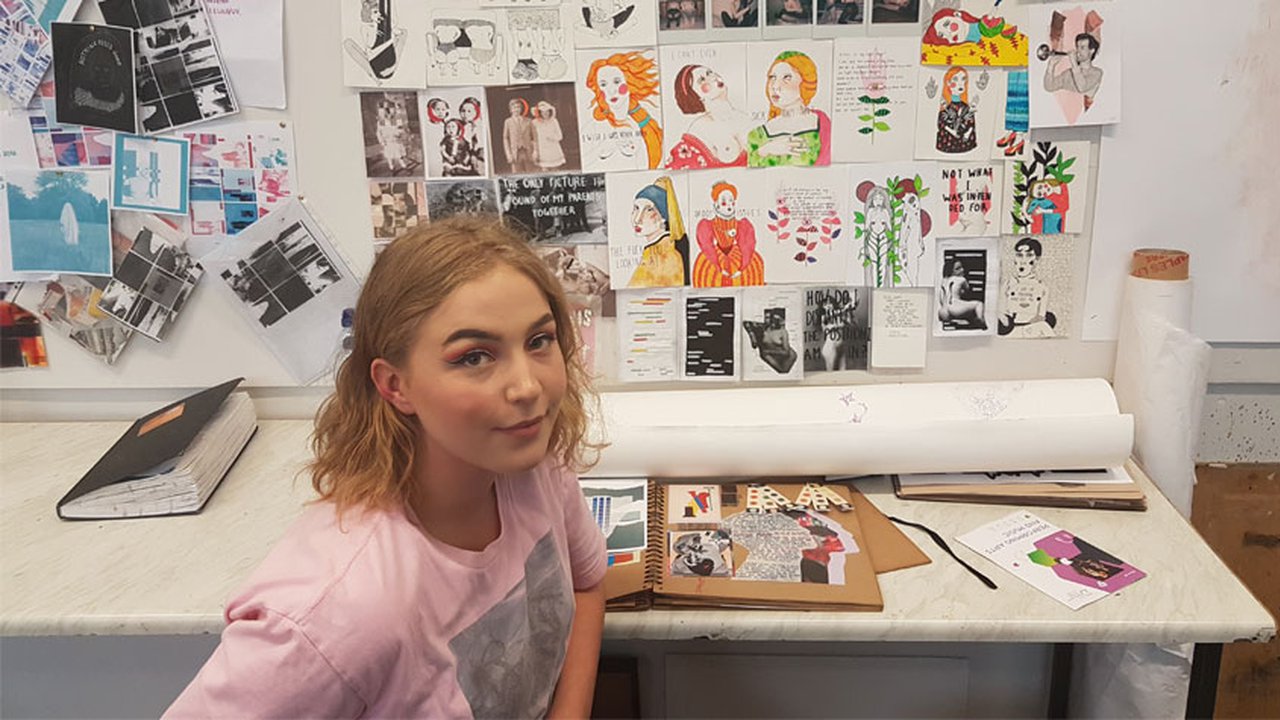 Student views on Visual Arts
As part of our #didyouknow Visual Arts week, three of our Art and Design Level 3 students enjoyed a visit from former student Zara Khalique, founder of @keepitbrightuk, and spoke to us about why they chose The Manchester College for their Visual Arts qualifications.
Ben Mansley
"I've always been into fashion, I even customised my own football boots when I was 11, so this course was the right one to choose. Getting the chance to try a wide range of art practices, such as screen printing and photography, is what I really like about it.
"Whatever you can think of doing, you can create it here thanks to the tutors and the facilities. And it was great to have a visit from Zara, from someone who knows about starting out in the fashion industry. My ultimate aim is to produce more fashion shows but also branch out into TV and film."
Joel Barry
 "My work explores being gender fluid and pulls from experiences and thoughts around that. The Manchester College is perfect, everyone at the College is open, so you can be free to be yourself. I was passionate about expressing myself and, with the support of the tutors, that has been possible.
"For years, I neglected to see myself as an artist but after my time at The Manchester College, I'm more comfortable and confident with my work and can be an artist. And in September, I'm starting a Fine Art degree at the University of Westminster."
Elisa Sallis (pictured)
"I've had some work commissioned, including prints and a tattoo design, so my aim is to continue to work as an artist. I'll be starting a Fine Art degree in September at Liverpool John Moores University
"I came to The Manchester College because I wanted to be more independent with my college choice. The college also had connections with art galleries, it was right in the heart of the city, which was really convenient, and the tutors were great."
 Find out more about our Design and Visual Arts courses by signing up to our Open Day on 9 July or by visiting our Design and Visual Arts page.