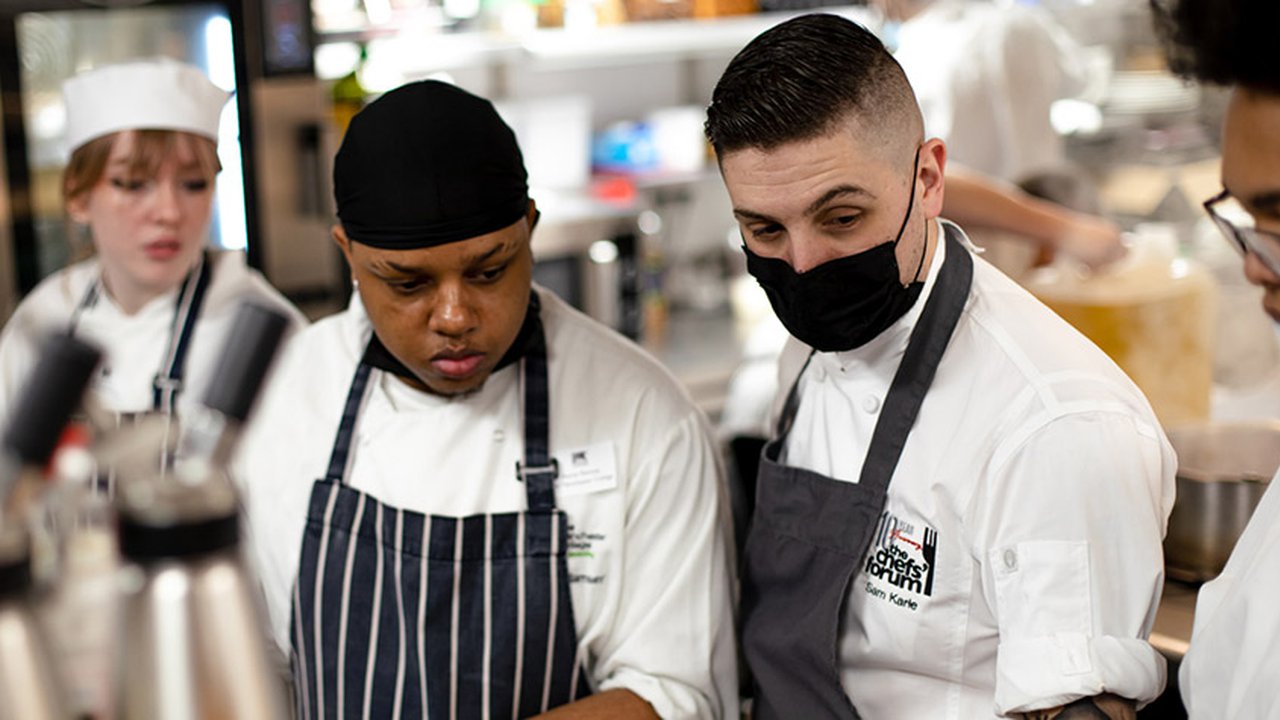 Students help Chefs' Forum mark 10th anniversary in style
Hospitality & Catering students served 70 guests at the celebratory lunch.
Students from The Manchester College's Industry Excellence Academy for Hospitality & Catering helped industry partner The Chef's Forum celebrate their 10th anniversary in style this week.
Twenty students from the College helped prepare a delicious five-course meal for 70 people at Dakota Hotel in Manchester to mark the special occasion. They worked alongside five renowned chefs; Adam Reid, Dan Moon and Exose Grant, and Dakota Hotel's Sam Karle and Amanda Gasiorowska, gaining exclusive industry experience at one of Manchester's top culinary venues.

Afterwards, our student chefs received high praise from Matt Townley, General Manager of Dakota Hotel. He said: "This is exactly the sort of event we like to host. We like to be involved with education and quality and it's wonderful to be involved with The Chefs' Forum.
There are some unbelievably talented young chefs in the kitchens here today.
The Chefs' Forum and The Manchester College have been in partnership since July 2019, leading to some of the country's top chefs visiting the College and delivering live masterclasses, as well as expert advice.

Speaking at the lunch, Principal Lisa O'Loughlin said: "The Chefs' Forum Academy has helped our students not just with their courses but also with life skills. The chefs that come in enable them to learn from industry in an entirely novel way. 
"I have to stop chefs taking our student chefs before they finish their courses! It's a wonderful partnership and today exemplifies that. They get such valuable experience from these events."

Catherine Farinha, founder of The Chefs' Forum, added: "The five-course lunch we put together was absolutely typical of the way we have worked for 10 years. We paired outstanding suppliers with brilliant chefs in a way that College chefs could learn and guests could enjoy.

"We build relationships between colleges and industry and between suppliers and chefs. As a whole we all contribute to the well-being of chef students and their future and the further education of existing and experienced chefs.

"I cannot believe that 10 years has gone by and we celebrated it in such style in Manchester. I'm overwhelmed by the support, the friends we have made and the students whose lives we've managed to enlighten."

You can find out more about The Manchester College's Industry Excellence Academy for Hospitality & Catering and apply today.
*Image credit - Harry Elletson