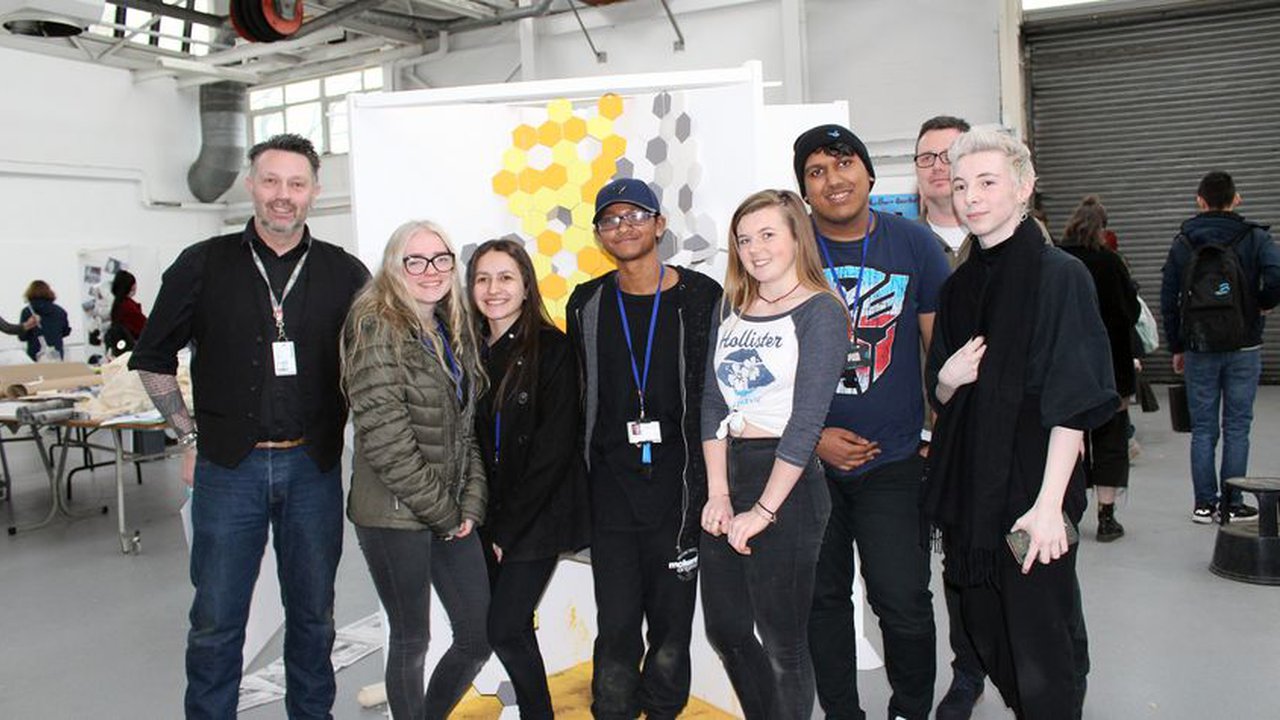 Students triumph in Greater Manchester Colleges Group competition
Our students joined learners from nine other colleges to compete in this year's Greater Manchester Colleges Group (GMCG) Skills Competition and triumphed in the Art and Design category, hosted at Stockport College.
The winning students built an installation made of graphene, a material discovered in Manchester, which represented a celebration of the city's communities, culture, and industry.
Annabelle Potts, an Art and Design student, said: "We weren't expecting to win because we were so impressed with the work of the other colleges, but was great to see everyone getting into it. Winning the competition is really useful for our CVs, personal statements, and university applications."
Fellow Art and Design students Leonardo Mohammed and Sebastian Hall formed the College team.
"Graphene is a scientific material based on a bond between compounds, so we took that theme and carried it through to how communities in Manchester are bonded together," said Sebastian.
"It was really good to be at the event with other students and to see their ideas, and it has opened new doors for our team because we're now more confident in ourselves and our work."
Teams from each GMCG college participated in closely fought categories across the week, covering a range of subjects in addition to Art and Design, including Sport, Engineering, and Catering.
Our Openshaw campus hosted the Enterprise Skills competition, where teams were tasked with planning all aspects of a large-scale music festival from scratch, while GMCG competitors visited our Harpurhey campus for the Travel and Tourism event.
Principal Lisa O'Loughlin said: "It has been fantastic to see so many passionate young people from across the region come together and produce some inspiring, exciting, and first-class work.
"We're incredibly proud of our students who competed and the quality of work our judges saw in the presentations for the competition blew them away."
GMCG is a partnership of 10 further education colleges that cover all boroughs of Greater Manchester.