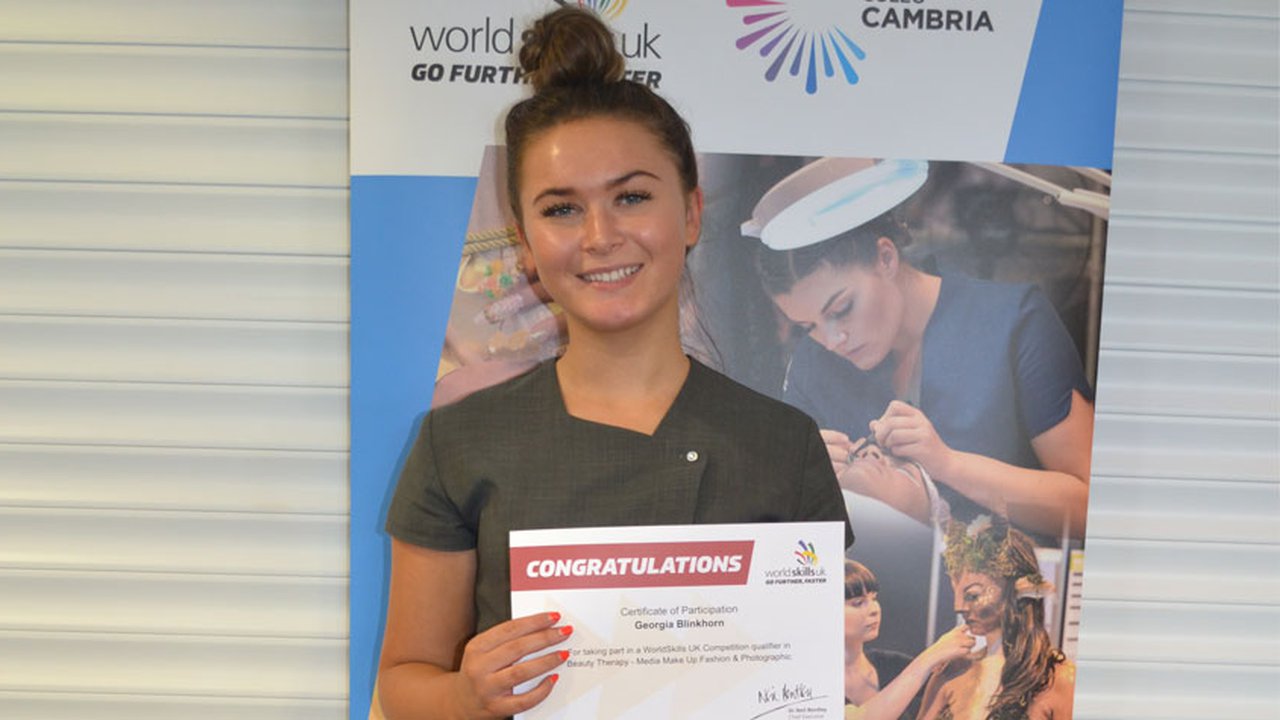 Top talent on show for WorldSkills UK National Qualifiers
Creativity filled the classrooms at The Manchester College during the National Qualifiers of the WorldSkills UK competition.
Over 350 entries were submitted and more than 100 competitors from as far as Northern Ireland visited the College's Northenden campus to compete in six categories including body art, fashion and photographic, and nail art.
WorldSkills UK brings together apprentices and young people from across the UK to compete in their chosen skill, firstly in national competitions and then as Team UK in international skills competitions held every two years.
Four learners from The Manchester College competed on the day and student Georgina Blinkhorn, a Level 2 Technical Hair & Media Learner from Harpurhey, secured third place in the Arabian Nights themed Fashion & Photographic category.
Helen Jones, Nail and Beauty tutor and World Skills Performance coach, said: "WorldSkills UK is a great competition because it tests the student's technical skills, their problem-solving abilities, their professionalism, and overall outlook.
"The competitors improve their skills levels because they are having to work to standards two years ahead of where they should be.
Taking part in the competition helps to broaden their horizons, and we've seen former students accept international job offers because the WorldSkills reputation is so highly regarded.
Elizabeth Peters, Assistant Principal, Service, and Retail Industries said: "This is a really inspirational event for our learners and a wonderful experience.
"Hosting the National Qualifiers is a fantastic opportunity for the College to be a leading centre for WorldSkills UK."
Christine Kenyon, Vice Principal, FE Curriculum, said: "WorldSkills competitions are prestigious events and are very well known among employers.
"It is a real honour to host these competitions and welcome so many students and staff to the college.
"The event has provided all students with the opportunity to gain inspiration from their fellow students whilst showcasing their own talents and expertise.
"They are an excellent opportunity for students to develop their skills and build their confidence to grow and progress in their chosen career.  
"I'm really passionate about encouraging learners to participate in all competitions, and especially in WorldSkills UK due to the opportunities it provides"
Jenna Bailey MBE, International Training Manager for WorldSkills UK Beauty Therapy, said: "The competitors were very professional, mature in their approach, committed to achieving good results and, most importantly, employable.
"Having The Manchester College support WorldSkills UK by hosting the National Qualifiers is fantastic, and the staff made us feel very welcome."
The picture shows Level 2 Technical Hair & Media learner Georgina Blinkhorn. 
Find out more about the range of vocational courses available at The Manchester College.