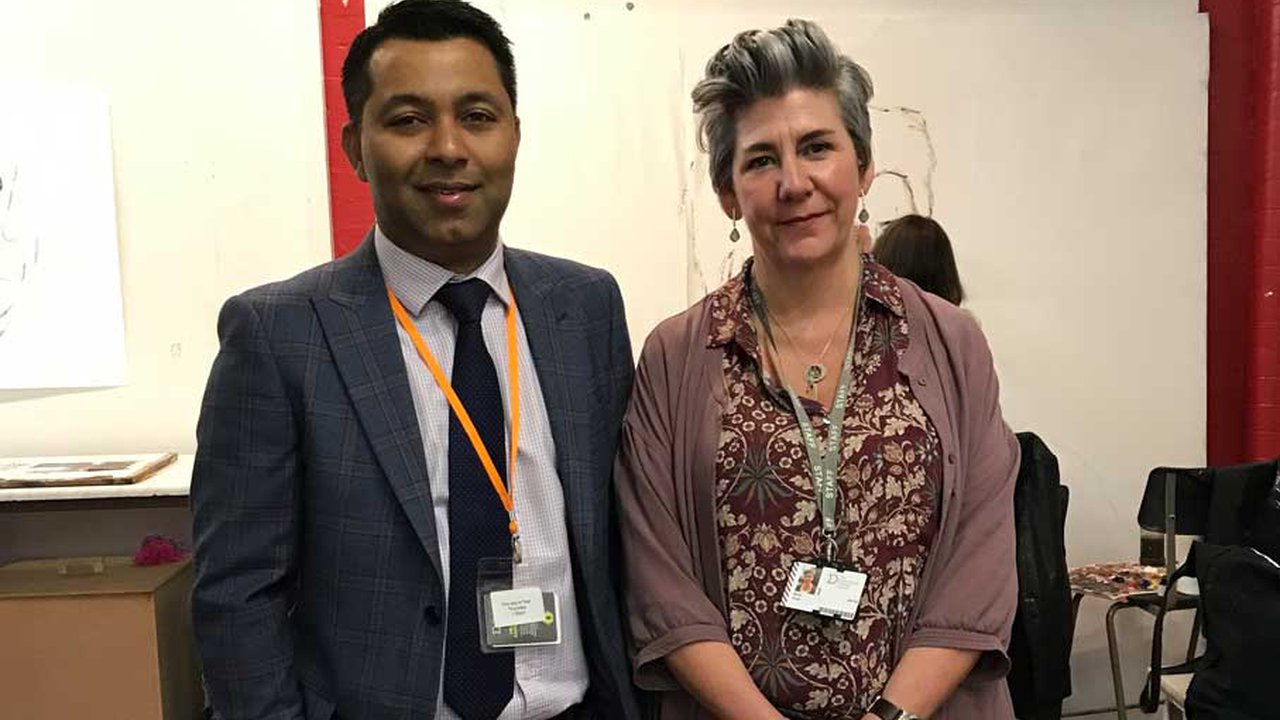 Visual Arts in Sharp Focus at The Manchester College
The Manchester College is shining a spotlight on its Design and Visual Arts courses in a week-long campaign highlighting its talented arts students and promoting the benefits of a career in the creative industry.
As part of the '#didyouknow Design and Visual Arts' week, which runs from 10 to 14 June, fashion designer and former student Zara Khalique, who has sold to likes of Ariana Grande and Miley Cyrus, visited students to offer tips and advice on her experiences in the industry.
Councillor Luthfur Rahman, executive member for Schools, Culture and Leisure at Manchester City Council, also took a tour of the facilities at one of the College's creative design hubs, Shena Simon campus.
Cllr Rahman said: "Manchester has one of the most vibrant cultural offers in the country…and there are so many opportunities for students at The Manchester College who are thinking of pursuing a career in the arts and creative industries."
The College offers a vast array of industry-specific programmes, including Art and Design, Fashion and Textiles, Graphic Design and Visual Communication, Jewellery and Photography.
Alison Clark, Art Council England's Director for Combined Arts and Manchester, said: "Culture is a flourishing industry across the UK. Qualifications are invaluable for helping students to get into this sector to nurture talent; teaching them about potential career paths and the skills they need to thrive."
According to industry figures, the creative industries is growing by nine per cent each year, which makes it one of the fastest growing employment sectors in the country. And in Manchester alone, around 63,000 people work in creative and digital jobs.
Maria Foran, Head of Department for Design and Visual Arts, said: "We equip artists at an early stage in their career with the tools to be resourceful problem-solvers, collaborative, self-sufficient and resilient.
"Our Design and Visual Arts provision is diverse, inclusive and ambitious. We nurture talent and enable people to shape their creative voice by becoming active learners and active creators in this city of expanding opportunity in the creative industries."
There are a variety of Design and Visual Arts courses available at The Manchester College, from Entry Level qualifications right through to Degree Level courses with UCEN Manchester, the College's higher education partner. Find out more in our Design and Visual Arts hub.
Come along to the 27 June Adult or the 9 July School Leaver open event to view the facilities, speak to the tutors and meet fellow prospective students. 
Pictured: Cllr Luthfur Rahman and Maria Foran