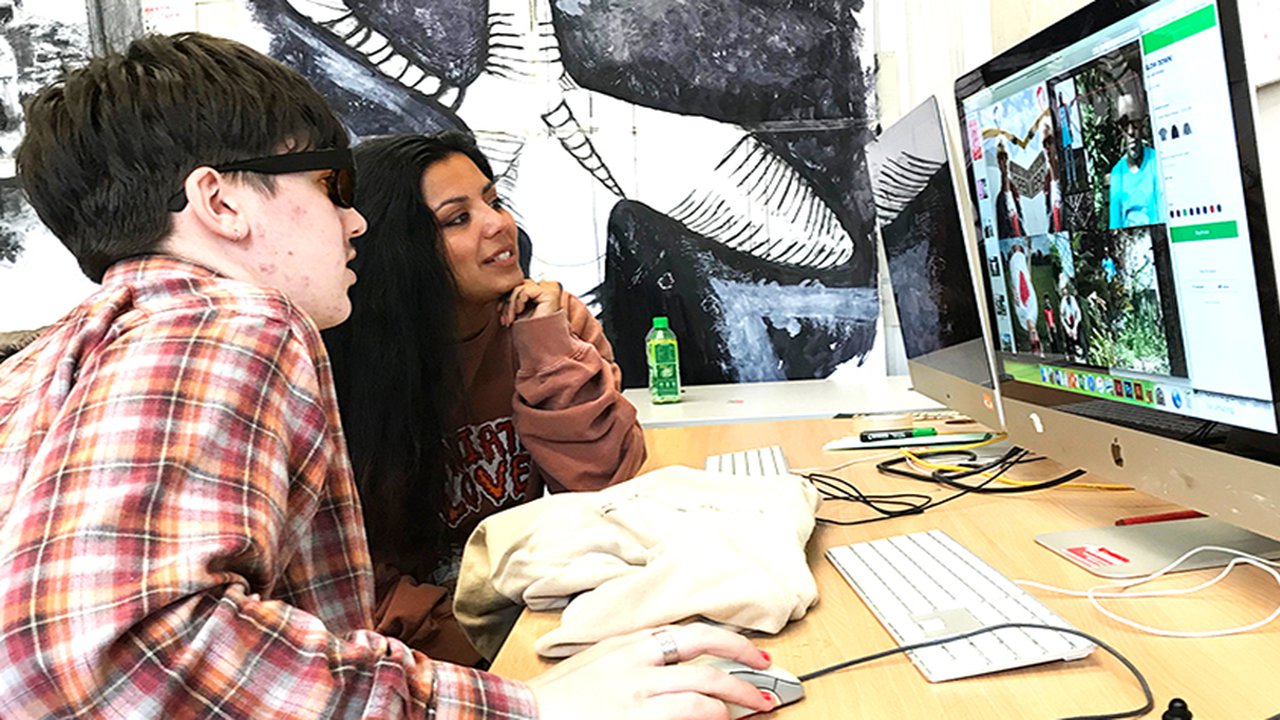 Zara Khalique brightens up our day
During our #didyouknow Design and Visual Arts week we caught up with Zara Khalique, a former pupil turned Fashion Designer and Entrepreneur, to talk about her brand 'Keep it bright'. She took the time to visit our Level 3 Art and Design students completing their end of year projects.
Keep It Bright
"Keep it Bright is a positivity movement, lifestyle brand and way of living. It is all about powerful messages, positive vibes and helping you to live a brighter, better life every day, through positive reminders online, and an accompanying range of books, clothing and uplifting products."
Being a former student
"I came to The Manchester College way back when, to take a Design and Visual Arts course. It was then that I started my own creative business at the age of 16.
"I've met the students here today previously, at the Manchester Art Gallery, which I believe the College now has a rolling partnership with. I was doing a few workshops at the gallery which the students attended. So it's been nice to see familiar faces again and get to see their work."
Young Creatives of today
"It was really interesting to see how the young creatives of today think and to hear the decisions behind the work I was observing. There was such a variation in styles, mediums and ideas. Nothing has been the same and they're all so independent in their thought processes. It was really refreshing to see."
Advice to students
"I think what's always worked best and I will continue to work best is authenticity. It's really important to be true to your own experience, thoughts and feelings - even if you're concerned that you aren't always very well-articulated like me, because I always just say what I feel and that's always worked for me.
"With these students, their voices are important to their work and their careers. Going forward they should stay true to their uniqueness, that is where their magic and power lies."
Getting a qualification
"Even for someone who doesn't think that College is for them, to have these facilities and the option to choose and experiment with different mediums at no cost, is something that you would never have on the outside world. It's an unbelievable opportunity to discover what works for you and what you enjoy. It's at the very least a great stepping stone for anyone who wants to go into the arts."
Promoting the Arts industries in education
"Supporting the arts in education is really important because you never know where someone is going to go, or who they will become, from what they learn here at College. Art is a form of self-expression and a lot of the students I met have shown how personal this experience has been for them. This is their way of connecting with others and being seen."
If you're interested in taking one of our many Design and Visual Arts courses we would love to see you at our open day on 9 July.
Can't wait until then? Follow the links to find out more about our Design and Visual Arts courses, or check out our #didyouknow #DesignVisualArts week on social media.