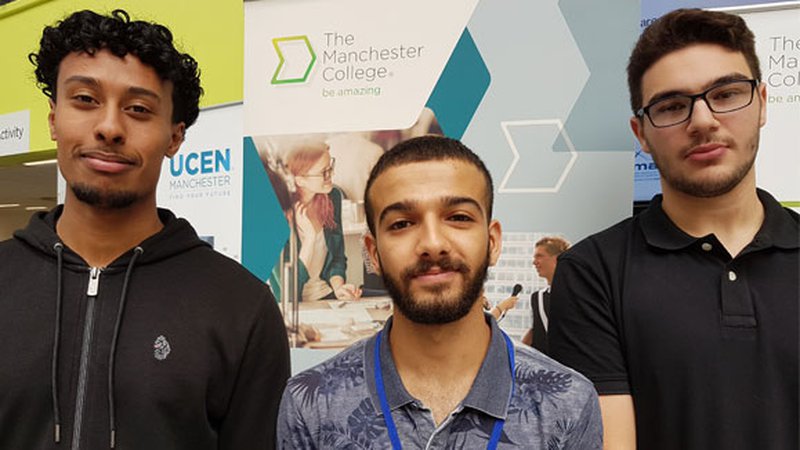 Abukar, Mohammed and Casem
Level 3 Extended Diploma in Engineering, Level 3 BTEC Construction and Built Environment
Go back
Engineering students building a brighter future
During A Level and GCSE results weeks, we are celebrating student success stories across our Group and showcasing learners who have achieved great things. Meet The Manchester College students Abukar, Mohammed and Casem, who are helping to bridge the national engineering skills gap.
High flying engineering students from The Manchester College are set to bridge the national skills gap after securing top grades in this year's exams.
Students Abukar Sharif, Mohammed Taha and Casem Bazuri all secured a triple Distinction * in their respective courses, the highest possible result and equivalent to three A* grades at A Level.
Abukar and Mohammed passed their Level 3 Extended Diploma in Engineering, while Casem passed his Level 3 BTEC Construction and Built Environment, with all three set to pursue engineering careers.
Abukar will start a Civil Engineering degree at the University of Leeds next month, Mohammed is heading to the University of Sheffield to study Aerospace Engineering, and Casem will go to the University of Salford to study Civil Engineering.
Abukar said: "I'd attended a different college and got A levels in Economics, IT and Business but took career advice and decided to look into Civil Engineering, which my brother is studying.
"The BTEC course at The Manchester College seemed perfect because of the specialist tutors. It was a challenging course because it's the only one I'm aware of that tests its students as the course progresses.
I feel ready for university now and hope to have a career in Civil Engineering designing large structures such as bridges.
Mohammed, who came to Manchester from Iraq three years ago, completed his GCSE maths, English and Level 2 Engineering with The Manchester College before progressing onto Level 3.
He said: "The course was really good and I especially liked all the practical projects and problem solving. My ultimate aim is to have a career in the aerospace industry, working with and maybe designing planes. I would definitely recommend the College and the course to other students."
Casem spent a year studying A Levels at another college before deciding he wanted to follow a career in civil engineering.
He said: "The course is just what I wanted, you learn about a broad range of topics such as surveying, soil conditions and structures, and a lot of the assignments are projects based.
"The site visits are really interesting, and you get carry out condition surveys, propose improvements and suggest ways a building would better serve its purpose, just like formal briefings.
"I find myself now relating what I have learned to good use and analysing buildings I see around me. I plan to gain my chartered engineer status and would love to work on oversized structures and large engineering solutions."
2018 is officially the Year of Engineering, according to government website Gov.uk. Despite engineering being one of the most productive sectors in the UK, the industry is facing a shortfall of 20,000 engineering graduates every year.
Chris Wright, Assistant Principal - Automotive, Construction, Engineering and Logistics, said The Manchester College is addressing the national skills gap thanks to its engineering curriculum.
"Engineering generated 23 per cent (£1.23 trillion) of the UK's total turnover last year and as such, plays a vital role in the UK's economic and societal wellbeing, providing quality employment opportunities on a large scale and some of the key solutions to major global challenges.
"The number of high-skilled Engineering jobs in the UK has risen by 2.3 million over the last two decades and 61 per cent of businesses find it hard or impossible to fill their vacancies.
"In the face of technological advancements and a growing 'skills gap', The Manchester College is well placed to support the pipeline of qualified engineers to progress into Higher Education or start their careers in core and related engineering roles, such as civil, mechanical, electrical, electronics, design and development and production and process engineers. This is turn helps to address the very real skills needs of the engineering sector and provided exciting and often global careers.
"Following Higher Education, 62 per cent of engineering and technology graduates entered full time employment, compared with 56 per cent of all graduates, and their starting salaries were 18 per cent higher than for graduates overall at £25,607."
Find out more about our Construction and Engineering courses at The Manchester College.