Professional Cookery
Diploma
Hospitality & Catering
Course Details
---
Qualification

Diploma

Subject Area

Hospitality & Catering

Level

3

Age Group

19+
Locations

Wythenshawe Campus
(Part Time Non Released - 36 weeks)

Harpurhey Campus
(Part Time Non Released - 36 weeks)

Leaflet Code

L8464
Course Gallery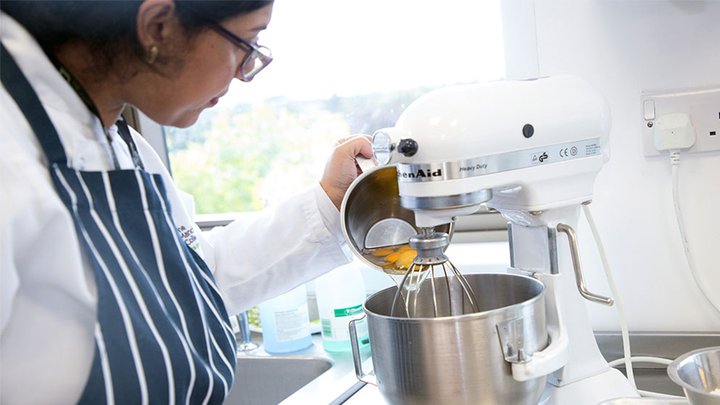 The Hospitality and Catering industry is fast-paced and exciting, with lots of opportunities for a fun and fulfilling career. If you want to pursue a career as a chef in this dynamic sector, this course will be perfect for you.
The units for this course have been developed to prepare you for your career by providing you with valuable skills and knowledge and a broad coverage of the requirements of staff working in the industry.
You will be required to complete three mandatory units plus a range of optional units.
Mandatory units include:
• Develop a productive working relationship with colleagues
• Maintain food safety when preparing and storing cooked foods
• Maintain health and safety security
Optional units include:
• Prepare, cook complex meat dishes
• Prepare, cook complex poultry dishes
• Prepare, cook complex hot sauce
• Prepare, cook and finish complex soups
• Prepare, cook and finish complex bread dough products,
• Prepare, cook complex cakes, biscuits, sponges.
• Prepare, cook and finish pastry products
• Prepare, cook and finish complex cold desserts
• Produce sauce, fillings and coatings for complex desserts
• Previous Level 2 Professional Cookery/or Patisserie and Confectionary qualification
Please get in touch if you don't have these qualifications.
This course is assessed through various methods such as:
• Portfolio based work
• Practical assessments
• Exams
Upon successful completion of this qualification, learners will be able to progress onto one of the following courses:
• Level 4 Foundation Degree in Culinary Arts
• Level 3 Hospitality Supervision
• Level 3 Tourism and Hospitality
Career opportunities include working in the kitchen of establishments such as:
• Hotels
• Restaurants
• Gastro pubs
• Specialist bakeries
• Specialist cafes and tea rooms
• Visitor attractions
• HM Prisons
• Hospitals and care homes
• Cruise liners
Careers page
This course is funded by the Greater Manchester Skills Fund, therefore if you are aged over 19 and this is your first or second full Level 3 qualification, you can study for free. For more information visit tmc.ac.uk/funding.
If you need help with affording college, there are a number of different finance and funding options available to you. You might be eligible for special bursary support or extra help from the government. Have a look at our fees, finance and funding page to find out all the information you need.
Fees, finance and funding page
Do you have a burning question about this course, or would you like to know more about the qualification you'll receive and how it will help your career?
Our course enquiries team is on hand to help you understand any details and answer any questions – whether it's about applying for the course or finding out about finance. Just get in touch here!
Make an enquiry
Get Started...
Use our online form to complete your application.
Remember: you can start now, and save it for completing later.
Hospitality & Catering
Maybe you're already a whizz in the kitchen, and the thought of exploring fine dining and gourmet food has your mouth watering?