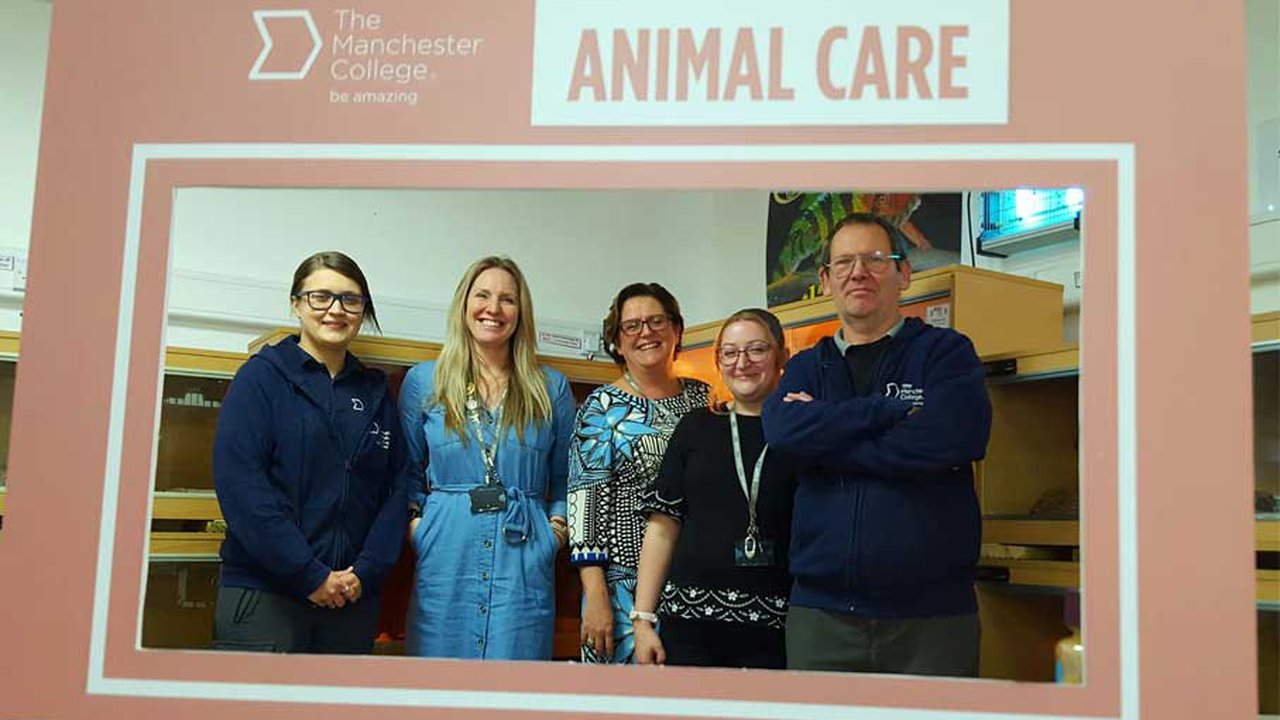 Animal Care at The Manchester College
During our Animal Care takeover, on 20 and 21 June 2019, we spoke to our tutors and technicians about why you should apply to Animal Care here at The Manchester College.
Victoria Andrews, Animal Management tutor. Victoria is a registered veterinary nurse and is a member of the British Veterinary Society.
"Our programmes are a gateway to a massively varied career path and offer endless progression opportunities.
Some of our students go into industry, or onto apprenticeships and universities, some may choose to go into veterinary nursing, focus on behaviours and psychology, the RSCPA and marine biology. We even have a student currently who's looking at a career in the construction industry and is interested in the effect on wildlife when building.
We are a small enough department to be extra supportive but we have the support and the benefits of being part of the wider college. We know all of our students really well, it's a real community atmosphere. We genuinely want the best for our students."
Debbie Stevens, Animal Management tutor. Debbie has a degree in marine biology and zoology and worked as a Marine Biologist in Australia's Great Barrier Reef.
"I love it here, it's a small department but we're expanding too - we've got more courses coming up and will be introducing more animals.
Our students particularly enjoy being around the exotic animals, I mean, how exciting is it to feed a snake?! We've had students who have been frightened of snakes to begin with but now have developed confidence and can get them out without batting an eyelid. It's amazing to see them overcome their fears.
Steven Guy, Technician, has worked at the College for 35 years, and has experience in British Conservation and Ecology.
"I enjoy coming in, it's always a pleasure. One day is never the same. We all get on and work well on as a team, which shows in how happy the animals and students are.
I'd say to anyone thinking of applying 'Don't hesitate, you could never regret it!' There's so much support for you.
Jayne Shakeshaft, Department Team Lead. Jayne joined the Animal Care team in August 2018 after a 20+ year teaching career. 
Moving into Animal Care is the best decision I've ever made! The programmes offer so much opportunity for students, the vocational nature of the course is so varied and accessible. You'll be coming into contact with animals you may never knew even existed, or those you've only seen on TV.
The best thing about teaching and managing Animal Care is seeing how quickly students make progress and how those with very limited confidence in the beginning grow into themselves.
We have a lot of parents so grateful and appreciative about just how much support we give the students. I recently received an email from a student's mother thanking us for caring and supporting her daughter, saying she can now see a future for her in terms of a career and going to university. It's things like that that make it really worthwhile, it's the best feeling in the world.
Tegan Crean, Technician
Tegan studied Animal Management at the College seven years ago and then got a job as a technician five years ago. Read what she had to say here.
You can speak to the tutors and meet the animals at the next Open Day on Tuesday 9 July.