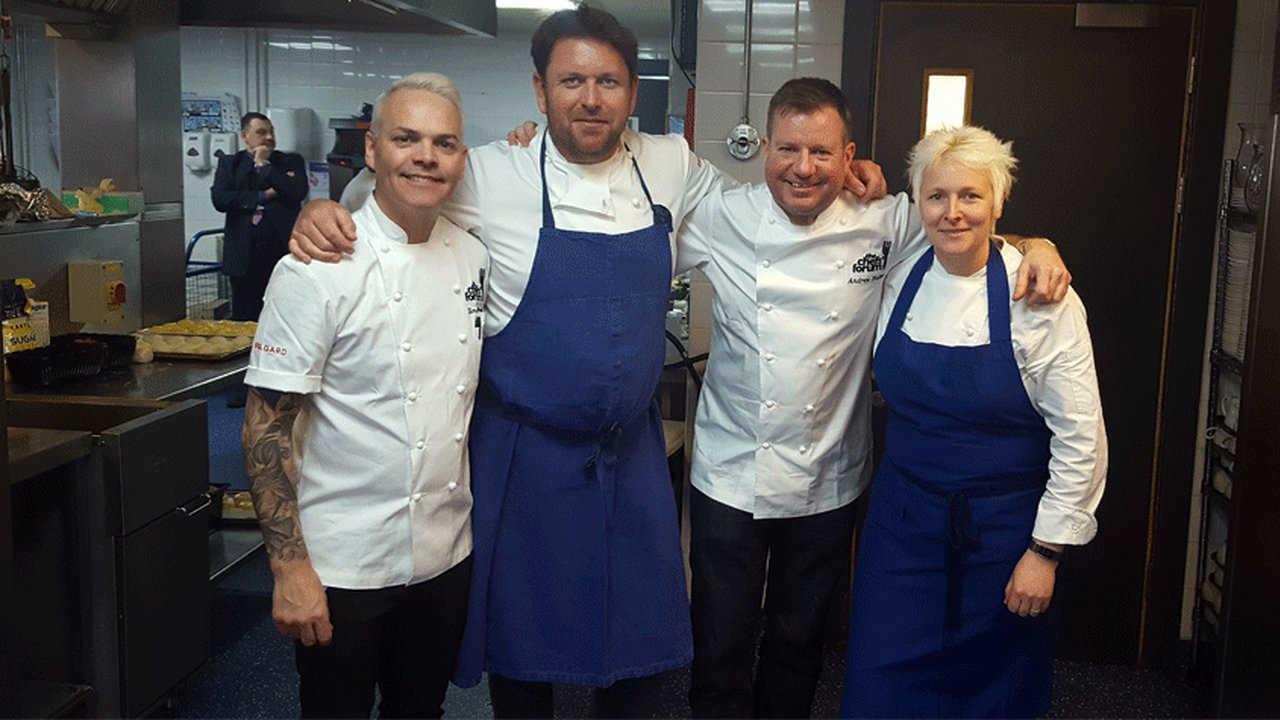 Celebrity chefs head to The Manchester College for charity launch
Catering and hospitality students dished up a winning menu during the launch of The Chefs' Forum with the help of four celebrity chefs.
TV chef James Martin and Masterchef winner Simon Wood, Rochdale-based Andrew Nutter and Lisa Goodwin-Allen, from the Michelin starred Northcote restaurant, donned their chef whites and headed to the Openshaw campus this week.
Using The Manchester College's facilities, they worked with a selection of students who created a stunning four course menu for over 70 industry professionals and special guests as part of the Manchester launch of The Chefs' Forum.
Catering students from Openshaw and Wythenshawe campuses prepped and cooked dishes including fresh crab risotto with Thai flavours and roast Goosnargh duck with English asparagus fricassee and wild garlic puree, while hospitality students set up the tables and served guests during the event. Delicate macarons and mini Battenberg cakes created by patisserie students from Fielden campus were also distributed to the guests.
The lunch was held to raise money for young chefs and front of house professionals coming into the industry via The Chefs' Forum Educational Foundation CIC, with the provision of basic equipment such as uniform or knives as well as financial help with travel and accommodation costs.
Chef and TV presenter James Martin said his advice to students starting out in the industry would be to gain as much work experience as possible.
He said: "Work experience has a massive benefit, everyone should get some form of work experience to have an idea of what the job will be like.
"To succeed you must work with great people, strive to work for the best and never sit on your laurels. It's a fascinating career, you never stop learning."
Lisa Goodwin-Allen, who took part in a question and answer session with some of the students, said: "It's a very rewarding industry. You need drive and determination, it can be hard, but it's like everything in life, if you want it, you'll get it. Break down barriers and strive to be the best, and most importantly, love what you do - passion is vital.
I can see what an amazing college this is, and the opportunities and experience you get here.
The guest chefs were asked to appoint a 'Star of The Day' in terms of the student in their section who impressed them the most.  After much deliberation due to the standard being so high, the winners were as follows:
James Martin chose Professional Cookery Level 2 student Andy Tran; Andrew Nutter chose Level 3 student Jason Wood; Simon Wood chose Level 2 student Eshanti Laing; and Lisa Goodwin-Allen chose Patisserie and Confectionary Level 3 student Sian Wilson. 
In addition, some of the students secured work placements at the professional restaurants and were even offered apprenticeships.
Eshanti said: "I've always wanted to be a chef, and events like these help me to pursue my dream career.
"It was really good working with Simon, it gave me a taste of what it was like working in a professional kitchen.
"I learned lots of new things and it has been a really memorable experience. I'll be going to Simon Wood's restaurant in a couple of weeks for work experience and potentially an apprenticeship."
Andy Tran said: "It was a great experience working with James Martin, great to learn from a professional, and he gave me lots of advice."
Maxine Gunning, Head of Department, said: "I'm absolutely overwhelmed, the event was an all-round success and it exceeded my expectations. I knew we'd be able to host such a prestigious launch but the students really did go that extra mile on the day."
The Chefs' Forum founder Catherine Farinha added: "The Chefs' Forum prides itself on sharing industry knowledge and best-practice in catering colleges and professional kitchens, working with top chefs across the UK. Mon​day's star-studded brigade was a joy to work with, The Manchester College great hosts and it was truly humbling hearing accounts from the students of how much they enjoyed the whole event!"
Picture shows (L-R) chefs Simon Wood, James Martin, Andrew Nutter and Lisa Goodwin-Allen.
Find out more about our wide range of Hospitality and Catering courses.