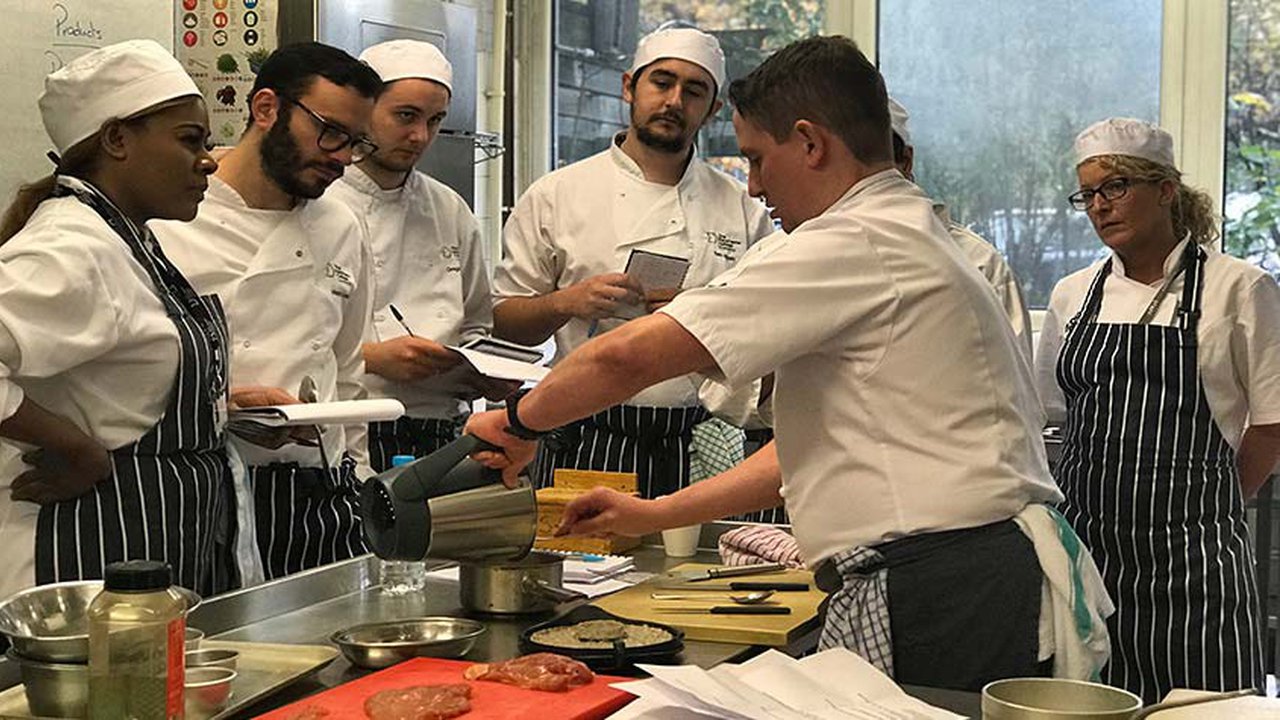 Cooking up a storm with Kevin Kindland
In this week's Chef Forum academy session, students at The Manchester College were treated to a frenzy of filleting, stuffing and frying in a masterclass from freelance chef, Kevin Kindland.
Kevin brought a taste of fine dining to the Bistro East kitchen with a mouth-watering recipe for Guinea Fowl Ballotine, Foie Royale and Wild Mushroom with Madeira & Tarragon Sauce.
The dish tested the student's technical skills as well as their presentation and time organisation. There was also a need for experimentation which challenged the student's independence and already engrained disciplines. 
Level 2, Technical Skills Student, Thandiwe Ndovi said,
"Having different chefs come in every week, I feel like I am just gaining more and more experience. Each chef comes in with their own style or tips they've found from experience in the field. I have so much more confidence in my ability now and want to start creating my own dishes!"
Kevin now works freelance after spending over 20 years in the industry working long and demanding hours. His vast experience includes Executive Chef at Ripley Castle and Head Chef at Marco Pierre White New York Italian.
Kevin Said "There is a significant rise in freelancing and catering gigs that have kinder working hours but it's important that young chefs still gain the skills and capabilities they would need for traditional or high-end cooking. Trends tend to come and go but those fundamental skills will always be of value, that's why I am here sharing my own experiences."
"If there is one piece of advice, I hope they take away, it's the value of planning. They should think of what they want and who they want to be and then plan out how they are going to get there. They will surprise themselves if they have a goal to work towards."
Find more information on past academy sessions with The Chefs Forum.
Alternatively, call our course enquiries team on 03333 222 444.