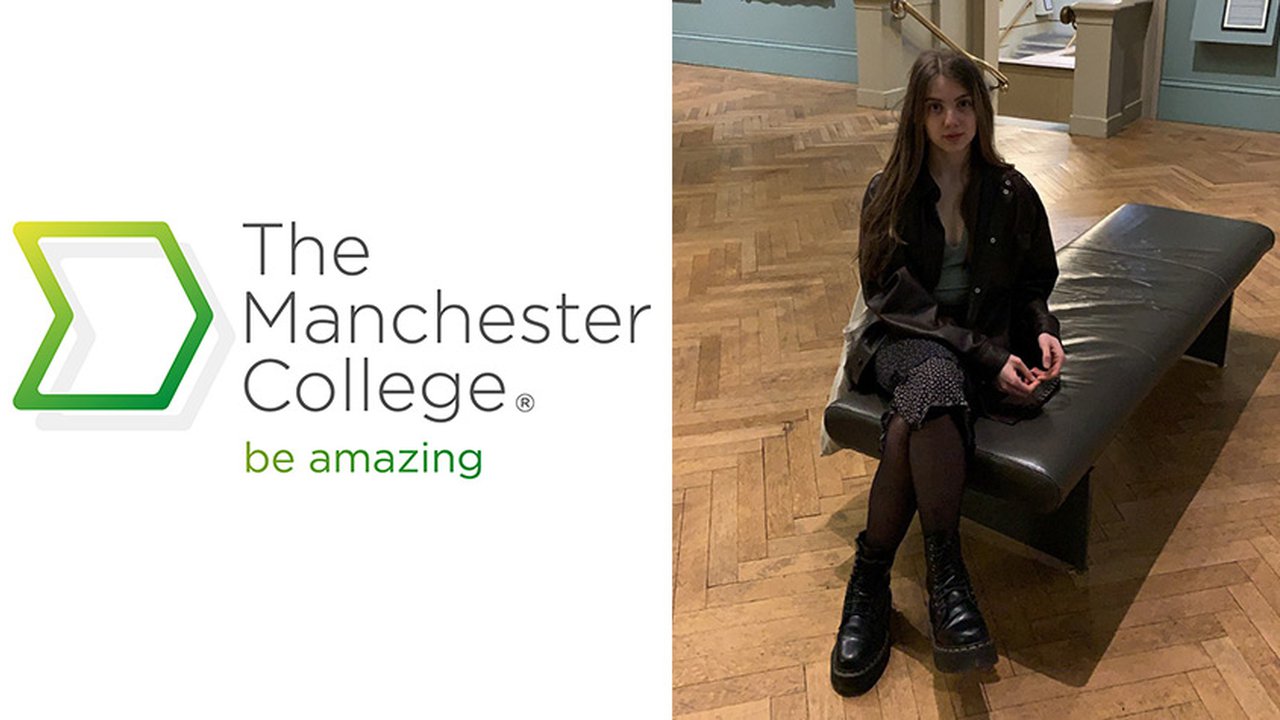 Hannah impresses at Manchester Art Gallery
A Design & Visual Arts graduate from The Manchester College is helping create a platform for young people to express themselves at Manchester Art Gallery.
Former College student Hannah-Sophia Guerriero has been working on a project with the Manchester Art Gallery to pilot a new website that provides a platform for young people across Manchester.
A graduate of The Manchester College's Centre of Excellence for Design and Visual Arts, Hannah was offered the opportunity to participate in the project after impressing the Gallery during numerous collaborations with it as part of her course at the College. Having benefitted from one of the College's industry partners, over the summer Hannah achieved a  Distinction in her UAL Level 3 Extended Diploma in Art and Design. 
Hannah, who also was also named the Design & Visual Arts Student of the Year said: "This year was the final opportunity for me to be a part of Future Creatives, which is a partnership between the College and the Manchester Art Gallery.
I found it to be an opportunity that other colleges don't provide. It was a developing process that could lead to having your name displayed in an international art gallery.
"With an opportunity like this being presented, especially in second year, I felt like I needed to work and acknowledge how I would construct a well-developed concept due to the inspiration within the gallery itself."
Taking on a set brief starting in mid-September, Hannah formed a project called 'Distortion Within The Bodies Of Youth'. The purpose of the project was to inform the gallery's audience about today's youth culture and how it still links to the past.
In March, students had the opportunity to showcase their work in one of Manchester Art Gallery's spaces in March, which was an experience that captured Hannah's initial enthusiasm to work more with the gallery. Then, during their end of year showcase, students took over the Gallery's Instagram account to host their own virtual exhibition called 'The Shed'.
Hannah added: "I was kindly contacted by the Manchester Art Gallery and asked, due to my passion for being involved with the gallery's takeover, if I would like to work with them on piloting a new website that provides a platform for young people across Manchester, using the content created for the takeover. I was thrilled to be asked and had no hesitation in accepting the voluntary role."
Emma Carroll, Senior Manager: Schools and Colleges at Manchester City Galleries, said: "It has been wonderful to see how Hannah's confidence has grown over the last two years. To see how both her work and her attitude has grown over this time is both a pleasure and remarkable.  
Hannah's response to this year's Future Creatives was standout, it showed what an intelligent and creative artist she is becoming.
"She also has shown a drive to make the most of all opportunities the gallery can offer. We can trust Hannah to deliver on time and with a considered approach. I am excited to see how she responds to the next challenge of helping us create a platform for young people to express themselves. It will no doubt be thoughtful and engaging."
Hannah has now progressed on to a UAL Level 3 Foundation Diploma Art and Design at Manchester Metropolitan University. 
Find out more about our Centre of Excellence for Design and Visual Arts and enrol today.