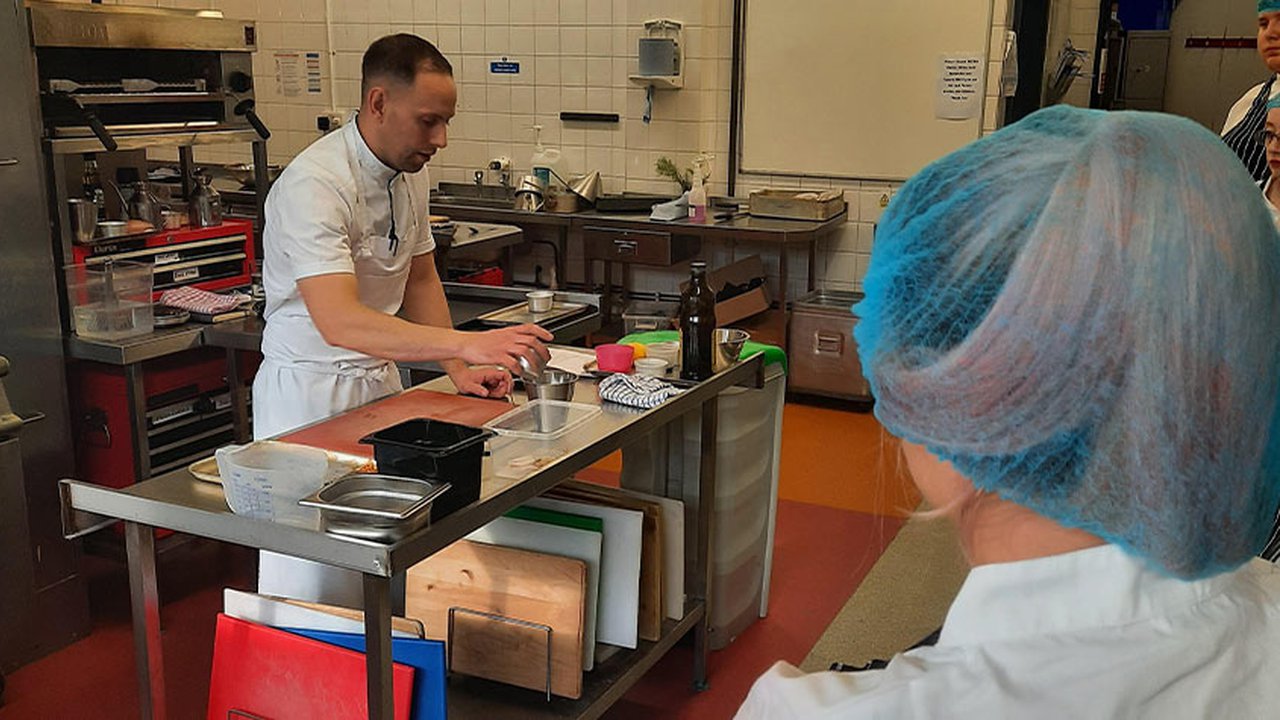 Hospitality and Catering students have Michelin stars in their eyes
Students at The Manchester College's Industry Excellence Academy for Hospitality & Catering have received Michelin star level training just a month into their course.
Dan Scott, Kitchen Manager at Mana, currently Manchester's only Michelin star restaurant, led a Chefs' Forum Academy session with Level 2 Professional Cookery students at the Openshaw campus this week.  
As well as discussing his distinguished career and his experiences as a professional chef, Dan taught the students how to prepare a sea bream from scratch, pan-fry it and serve it in two different styles, with orzo, Jerusalem artichoke, mushroom and chicken & chive sauce.
"I chose this dish because we cook with seafood a lot at Mana and I think people forget that bream is actually very nice," Sam said. "As much as we have a very, very strong farming community, we are an island so we should be eating more fish.
"I also think it's a skill that escapes a lot of chefs because it's so easy now to get everything prepared from your fishmonger. They do an amazing job but chefs should know how to fillet a whole fish and how to look for all the quality points."
Between closely watching Dan's demonstrations and cooking their dishes, the students questioned Dan on a variety of topics such as different techniques, sourcing ingredients and the business side of operating a restaurant. 
Level 2 Professional Cookery student Elizabeth Bateman said: "Coming from a Michelin star restaurant, it was really interesting to learn how Dan cooks, the way he prepares and how specific he is on every detail.
"I've filleted a salmon before but that's tough, whereas sea bream is a lot more delicate. I'm happy with how my dish turned out and it tasted really nice. I'd like to cook the dish in the future and experiment with the flavours, such as using other white fish.
I'm enjoying the course a lot. Having two tutors is great because you get taught the same dish in two completely different ways, as every chef has a different way of doing things. We cook a variety of different dishes and cuisines, which is fun to do.
And Dan remarked on how well the students did, so early on in their careers. He said: "I only realised halfway through that these guys have only been at College for about four weeks, which is impressive. They all did well. It's great for them to have people coming in from outside the College and working with people who are currently in the industry.
"Getting a good foundation and good base of knowledge is paramount going forwards in their career. At Mana, we're seen as progressive but everything we do is based in classical and basic techniques. Whether you work in a Michelin star restaurant or a bistro, you need to have that base knowledge."
The students' Michelin star education will continue after the half-term break, as Simon Martin, Mana's Chef Patron, will lead another Chef's Forum Academy session on Monday 2 November.
You can find out more about our Industry Excellence Academy for Hospitalty & Catering and enrol today.