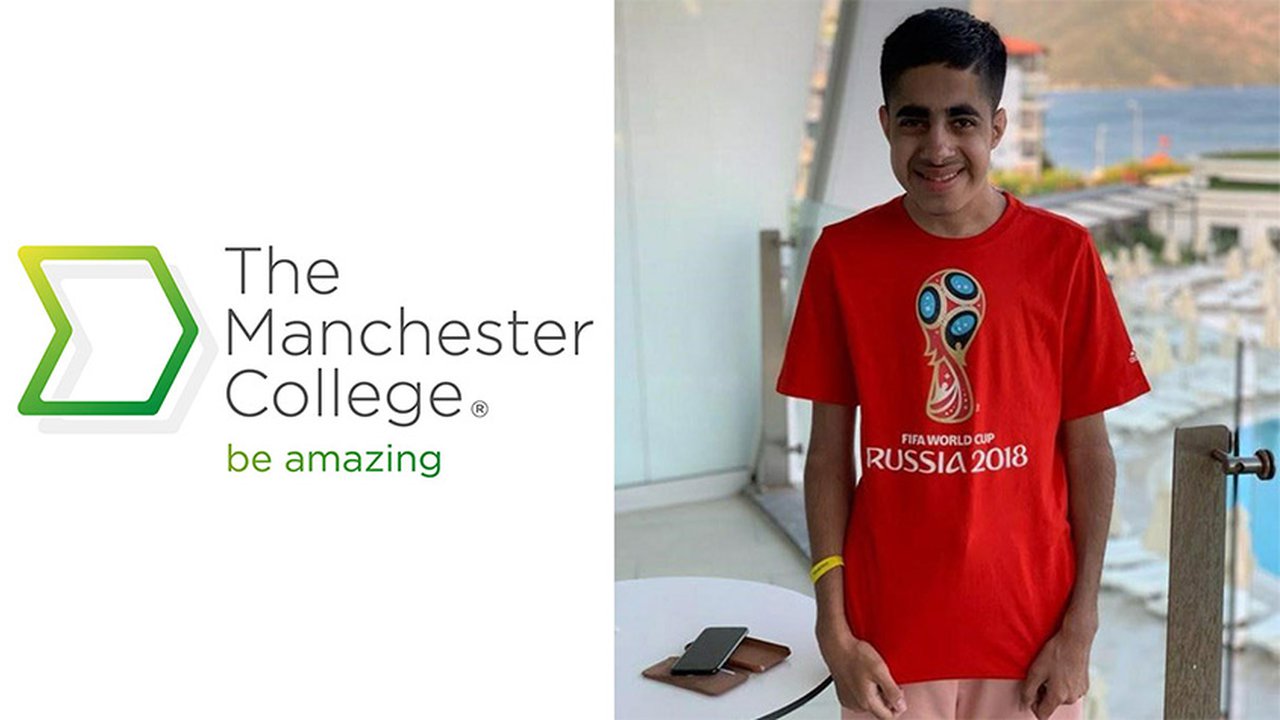 Inspirational student shares story of overcoming his stammer
Faizan has lived with Mosaic Edwards' syndrome all of his life.
A student from The Manchester College has been sharing the inspirational story of how he continues to overcome a severe stammer that has affected his daily life for 15 years.
Faizan Sheikh, a Childhood Studies student, has lived with Mosaic Edwards' syndrome since he was born and had the stammer since he was three years old. The stammer was so bad, Faizan couldn't say his own name without stuttering until he attended a speech course called The Starfish Project in 2019.
While his command over his stammer continues to improve, Faizan still faces a series of challenges in every day life.
He said: "There have been instances when my mum has parked the car in a disabled parking bay with the disability badge showing and people have tutted at her. Because I can walk and my disability is not as visible, people question why we have a disability badge. Some people have hidden disabilities, so it's not good to discriminate.
"Another obstacle that I face is that I get tired easily and can't walk long distances. When I was born, a nurse said to my mum, "Your son will never win a race." I won a 100m race in high school once and I rang my mum straight away to tell her I won and proved that nurse wrong.
When people say I "can't" do something, sometimes it knocks me down but sometimes it inspires me to prove them wrong.
Faizan has been sharing his story in the hope of inspiring others, appearing on BBC North West Tonight and Radio Manchester, ITV Granada Reports and even in the Manchester Evening News and Daily Mail.
He has also built up a following on Instagram, where he shares his daily challenges and speech techniques.
Speaking about the experience, Faizan said: "I approached the BBC. I sent an e-mail talking about my disability story and got an email back from Annabelle Tiffin. She said that she was delighted to hear from me, that my mum is a hero and that she wanted to interview me, so I was very excited!
"I was a bit nervous. Because I was going on TV, I was stammering quite a lot. I could get my words out but I was nervous, in an excited way. I really, really enjoyed every single bit of it. It's all about raising awareness."
Faizan hopes to one day become a teacher or a motivational speaker and is studying a Level 2 Early Years Practitioner course at The Manchester College, where he receives daily support with his disability.
"My support worker is called Amy and she manages my support, making sure everything is in place for me," Faizan said. "I try and do things myself before I ask for help but I know that I can always ask for help when I do need it."
Find out more about The Manchester College's Industry Excellence Academy for Childhood Studies and apply today.