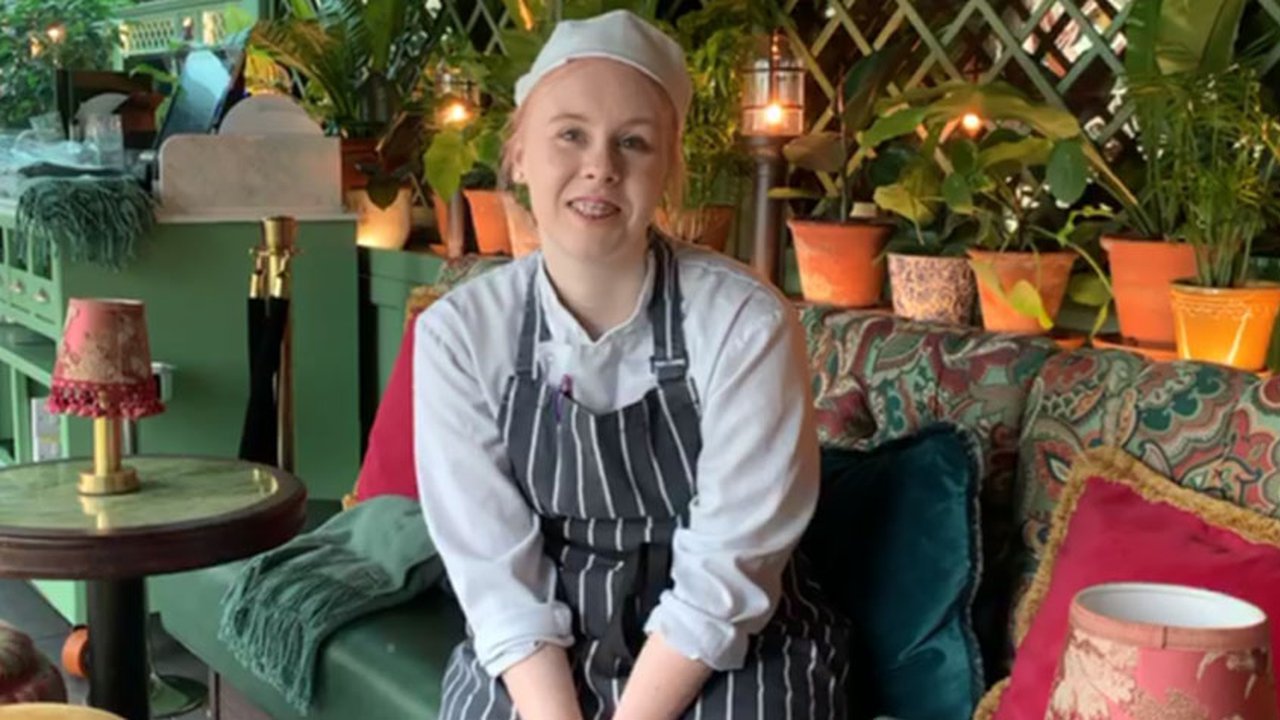 Pastry student Jessica is climbing high at The Ivy Spinningfields
Crème de la crème work placement leads to employment for student at The Manchester College.
Level 2 Pastry student Jessica McGrath, from The Manchester College, has secured employment at The Ivy Spinningfields in Manchester following a successful work placement.
A relationship between Mark Cooper, tutor at The Manchester College, and the city centre restaurant saw Jessica complete a work placement with a large team of professional pastry chefs.
After quickly learning the ropes and developing her skills, Jessica has now accepted a part time role in the busy kitchen. 
Jessica, who starts her Level 3 qualification in September, said: "Coming to The Ivy Spinningfields has been really good, I've learned so many skills in this new environment and by working with new people.
"I've definitely improved my communication skills, and I've learned how to work quickly. I think work experience is necessary as it helps students in the long run when they do get a job."
Steve Scoullar, Senior Head Chef at The Ivy Spinningfields in Manchester, said the restaurant had reached out to students at The Manchester College and welcomed them to join the team in the professional kitchen.
Steve said: "It's important as professionals that we support the next generations of chefs that are coming through the industry.
The Ivy Spinningfields striking up a relationship with The Manchester College is fundamental in offering that support, giving students a real insight into what it's really like working as a professional chef, and hopefully giving them the skills and confidence to make a real success in the future.
"Jessica has adapted very well. It can be quite intimidating coming into a large brigade especially for a young chef, so it's nice to see her blossom and fit straight into the pastry team. She has picked the skills up and understands what it's like to work in a busy kitchen."
He added: "My advice to students at The Manchester College is that the world is your oyster. Don't give up at the first hurdle and follow your heart. You can go anywhere with it in the world in this profession, so enjoy it, have fun and meet a lot of people."
Mark Cooper, course leader, Patiserrie and Bakery, said the college worked with a wide range of industry leaders, including the Hilton Hotel in Deansgate, specialist dessert company Destiny Foods and the five star Lowry Hotel in Manchester. He said work experience was vitally important, not only for students but employers as well.
He said: "It's beneficial for the employers because they want to see what students have learned and can guide them in ways that will make them better. And that could ultimately lead to employment at the end of the course.
"Jessica, who also had a work placement at The Lowry Hotel, has thrived at The Ivy Spinningfields. She has been working with some great chefs, picking up new skills, and coming back to college with such excitement.
"Jessica's journey has been phenomenal and what has been fantastic is that she has gained part time work, which Steve said could lead to full time employment after she has completed her Level 3."
Find out more about Hospitality and Catering courses at The Manchester College.