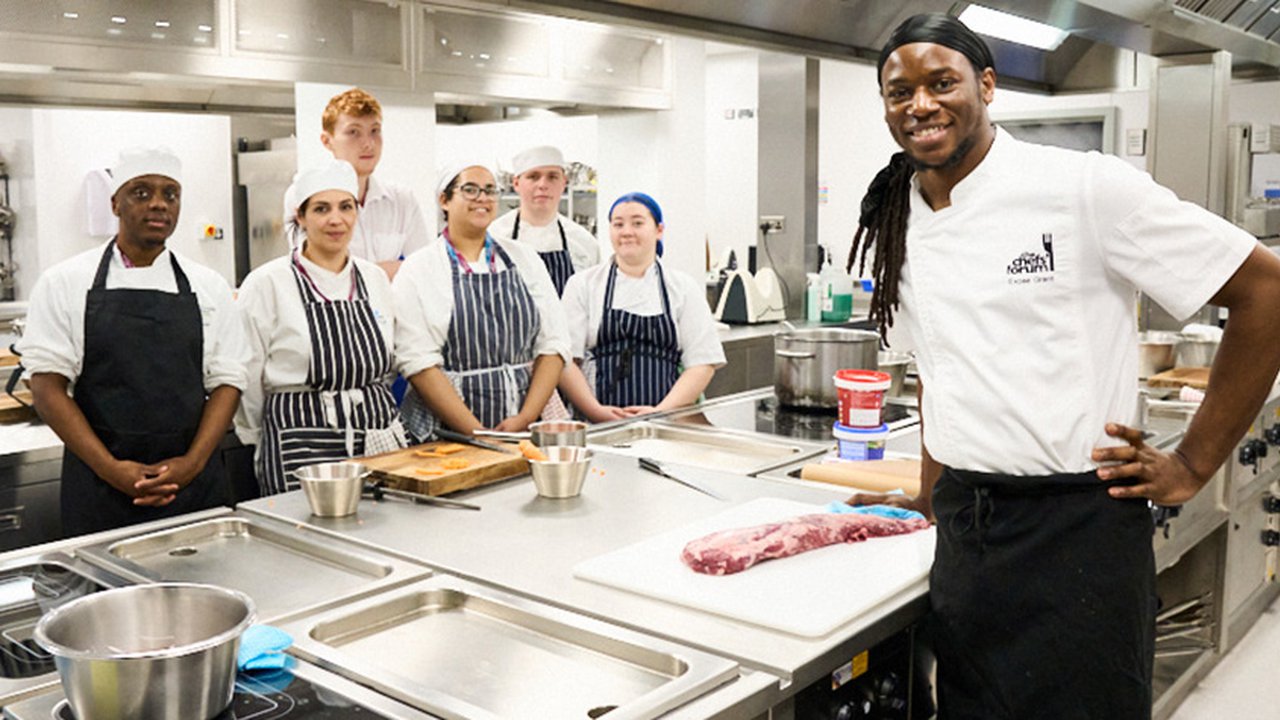 Students cook up four-course feast with Exose Grant
The Maya Sous Chef guided Hospitality & Catering students through a sold-out event
Promising young chefs at The Manchester College have shared a kitchen with one of the country's leading professionals, in conjunction with the Chefs' Forum Academy.
Students at the College's Industry Excellence Academy for Hospitality & Catering worked alongside Exose Grant, new Maya Sous Chef and finalist of 'Masterchef: The Professionals', to put on a four-course dinner plus drinks and canapés.
Such was the excitement around the event on 8 February, which was held at 1853 Restaurant at the College's City Campus Manchester, tickets for the evening sold out in record time.
Featuring dishes such as seaweed butter poached halibut and lemon meringue mille feuille, Exose and the students took advantage of the College's state-of-the-art kitchen facilities to create a delicious menu.
"Working with The Chefs' Forum our students are able to gain experience of working with top-professionals to really take their skills to the next level." commented Christine Kenyon, Deputy Principal at The Manchester College.
Nights such as these, where they put their skills to the test in a professional setting, are vital to ensuring they're ready to start a career once they complete their studies with us.
Incredibly generous with his time, the event was the latest way Exose Grant has supported The Manchester College.  He holds regular masterclasses on campus as well as involving students in external events, such as the recent Chefs' Forum Manchester Chefs' Lunch at Ducie Street Warehouse.
Exose said: "I enjoy this so much, I only wish I had these fantastic opportunities to work with top chefs when I was at college.  I just love giving back to the community and seeing how much the students get out of being involved in events like this.  It is also fantastic that I get to keep in touch with my former lecturer Mark Cooper, who I've always greatly looked up to and support him in enriching the learning of the students at The Manchester College.  
"The new city centre campus is absolutely amazing and the kitchens, world class – I'm honoured to be the first chef to host a guest chef evening at the College this year and look forward to attending similar evenings hosted by my chef peers and culinary legends."
The Chefs' Forum director Catherine Farinha added: "We're delighted to be growing our partnership with The Manchester College and help them to enable their students to get a proper feel of working in professional hospitality.
"This is the first in a series of fantastic guest chef nights to be held at the College.  Simon Wood of Wood Restaurant and Lisa Goodwin Allen of Northcote will also be cooking with the students in the brand-new kitchens and restaurant at City Campus Manchester.
"One of the main areas we're working on is to help make the College restaurant profitable and give students a real-life service with real guests.  It's amazing to sell out all 45 covers.
"By working with sponsors, we can drive down food costs and bring in top class ingredients that students haven't worked with before.  For this series we're working with Meat & Livestock Australia, Royal Greenland and Dole fresh produce."
Find out more about Hospitality & Catering courses at The Manchester College and apply today.