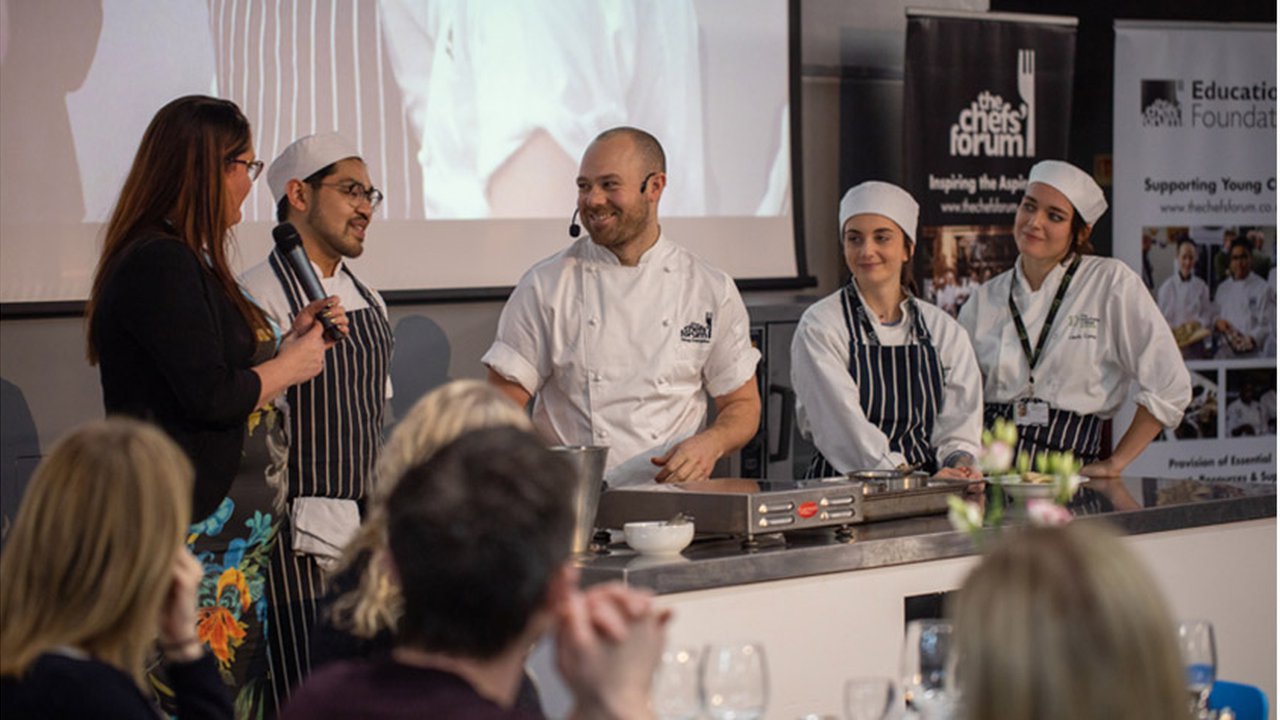 Top Chefs head to The Manchester College for celebration event with The Chefs' Forum Academy.
VIP guests enjoyed an exclusive 'Demo and Dine' event to mark the next phase of Academy sessions.
A masterclass in fine dining from chefs including Masterchef: The Professionals finalist Exose Grant Lopo-Ndinga was delivered at The Manchester College during a celebration event with The Chefs' Forum Academy.
College students enjoyed expert tuition from the region's most critically acclaimed chefs during the fundraising event, which saw them produce and serve a five-course meal to guests including VIPs, local businesses and employers.
The line-up included:
Rory Lumsden, Head Chef at Randall & Aubin Manchester, who prepared an Amuse-bouche of dartoise of wild mushroom and artichoke, celeriac purée
Sam Fazackerley, Head Chef at Rosso Restaurant, who prepared a starter of spalla d'agnello con ceci neri
Doug Crampton, Head Chef at James Martin Manchester, who prepared brown butter poached Cornish Brill, roasted roots, smoked garlic gnocchi, baked potato consommé
Danny Young, of Northcote, who prepared free range duck, pickled pear, smoked Foie Royale, beer and barley
Exose Grant Lopo-Ndinga, Masterchef: The Professionals 2019 finalist and chef at James Martin Manchester, who served a dessert of lemon and raspberry choux bun, with brandy snap, meringue and raspberry sorbet
Chef Exose said: "Events like this are important for young up and coming chefs. It's a chance for them to learn and to take a step into the industry, it's helping them to gain work experience and it also contributes towards their future career." 
The Chefs' Forum Academy masterclasses at the College have seen more than 70 local chefs and front of house experts deliver weekly sessions to Hospitality and Catering students, with many students progressing to secure work experience opportunities and careers with participating venues.
Each top chef chose their own star of the day, who will go on to receive trial shifts or experience days with them in their own professional kitchens. Level 3 student Andy Tran was named as Danny Young's 'Star of the day' almost a year after receiving the same accolade from Doug Crampton at a previous event back in March 2019.
Andy, who is also currently working for James Martin Manchester, said: "I feel very lucky. James Martin is such a respected restaurant in Manchester, and being there allows me the best opportunity to break into the industry and offers me valuable lessons at this early stage in my career. I'm very grateful to The Manchester College."
Guests paid £25 to attend the 'Demo and Dine', raising donations towards The Chefs' Forum Educational Foundation, an organisation which helps young people receive training to secure a job in the hospitality industry. 
Lisa O'Loughlin, Principal at The Manchester College, said: "The Chefs' Forum Academy has seen our students gain unrivalled access to some of the country's most talented chefs, enabling them to benefit from their knowledge, experience and expertise.
"Not only do events like this help to inspire them, it provides them with up-to-date insight into current culinary trends, techniques and industry standard best practice which ensures that they are work ready when they complete their course with us.
I am exceptionally proud of the exceptional standards that our students delivered today, which is testament to the success of our unique partnership with The Chefs' Forum.
Catherine Farinha, from The Chefs' Forum, said: "The Chefs' Forum Academy at The Manchester College is proving a great success. It is fantastic to welcome such esteemed chefs to the college on a weekly basis throughout the academic year.
"The Chefs' Forum prides itself on sharing industry knowledge and best practice in catering colleges and The Chefs' Forum Academy ensures top chefs continue to pass on their skills to the next generation, inspiring young chefs, whilst creating employment opportunities for the young people taking part."
The Manchester College is the only college in the north of England to offer The Chefs' Forum Academy. Students participating in the Academy benefit from a weekly three-hour long session with industry professionals.