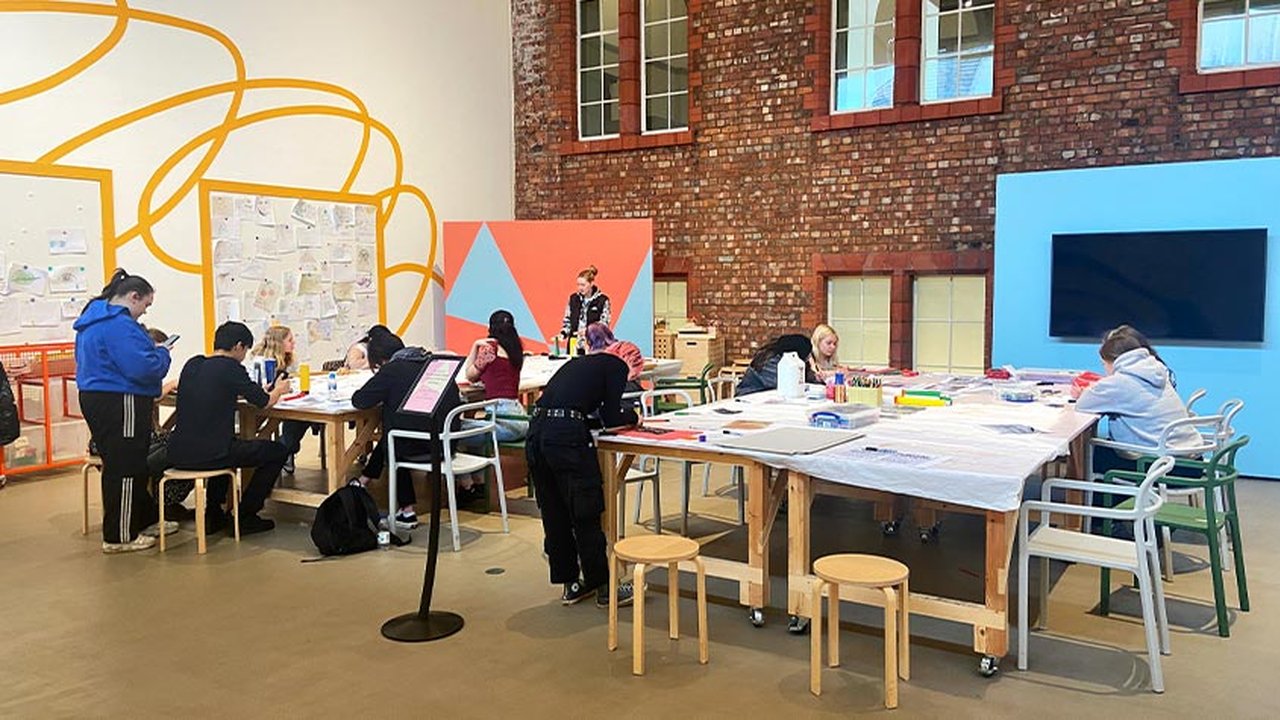 Visual Arts students host Whitworth Gallery workshops
A group of twenty students from The Manchester College's Centre of Excellence for Visual Arts have spent weeks getting to know the ins and outs of Whitworth Art Gallery as part of an exciting work experience project.
The students, who are all studying our Level 3 Diploma in Creative Practice: Art, Design and Communication, have got to know all parts of the gallery and how they work. 
They've had talks from the Museum's Director, artist in residence and a number of curators, exploring the variety of jobs available in the arts sector, including hidden jobs they weren't aware of before the work experience project began.
The students have also completed a number of tasks, such as marketing exhibitions to young audiences, visual merchandising and coming up with new product concepts for the gallery shop.
For their final task, eight of the students ran workshops for the general public in response to the gallery's 'Traces of Displacement' exhibition, using unusual techniques to create art.  After coming up with the concept then costing and organising the events, the students held three successful workshops across two dates at the iconic venue, which were enjoyed by everyone who took part.
Larna Magee, Freya Wilding and Ruby Marshall were the first students to host a workshop. They said: "We decided to do two main activities. The first was foam prints, which involves getting a foam block and using an existing piece of art from Gallery 3 to create a design.  These creations were then printed on a piece of fabric or card.
"The next idea was to recreate and interpret one of the art pieces displayed in Gallery 3.
We also gave the public a variety of challenges such as blind drawing, memory drawing, drawing with their no dominant hand, one line drawing, and drawing using only one colour.
Barry Atkins, Vice Principal, commented: "If we are to prepare students for a future career it is vital that they have as many touchpoints with industry as possible so that they are ready for the workplace when they complete their studies with us.  
"It is fantastic that our students have been able to enjoy a work placement at the Whitworth and find out about the many different careers that exist in the art sector, including the opportunities that they might not of previously been aware of." 
Find out more about our Visual Art courses and apply today.