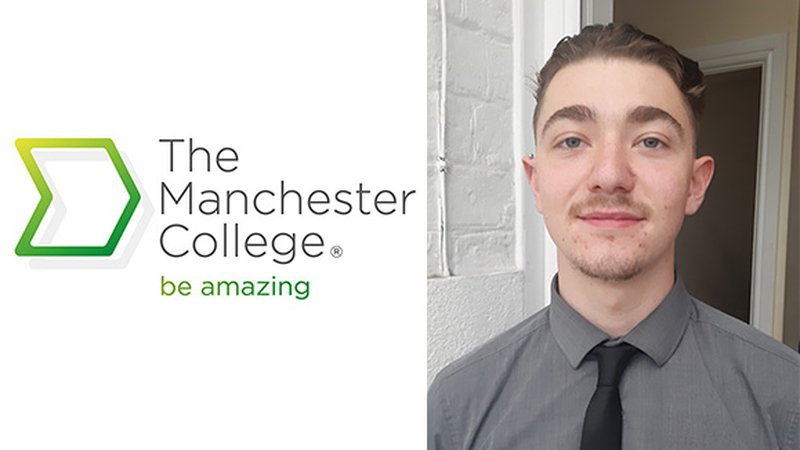 Jacob Riddell
Construction and the Built Environment Level 3; Architecture, Construction and Engineering Scholarship
Go back
Jacob secures employment after impressing on work placement
ACE Scholarship leads to trainee role with industry partners Lovell.
It's straight into the world of work for Construction student Jacob Riddell after he impressed bosses during his work placement with housing company Lovell.
The 19-year-old achieved D*DD in his Level 3 Construction and the Built Environment BTEC, after studying on The Manchester College's Architecture, Construction and Engineering (ACE) Scholarship, sponsored by Lovell as one of the College's industry partners.
Jacob credits the mandatory work placement as playing a crucial role in his development during his time on the course, as well as securing employment.
He said: "The work placement was standard on my scholarship but later, I learnt that it was mandatory for all students to complete a minimum of 40 hours, which helps people understand the psychical requirements needed to engage with the career role you are studying. I enjoyed experiencing different roles within my work placements and without my education and knowledge learnt in the classroom, I would not have comfortably engaged with them.
 "After I completed the course, I was offered a management trainee role at Lovell. I will complete an assessment year, where I will rotate around five different areas of the company and at the end have the possibility of gaining a four year apprenticeship, hosted by a nearby university or college."
Jacob is aiming for a successful career in urban planning and is delighted that his trainee role at Lovell will help him towards that goal. Now he's embarking on his dream career, Jacob said he would recommend The Manchester College to those who want to start their own journey.
"After attending my sixth form college for a year, I realised my vocation was not in an academic area," he explained. "I searched for more practical methods to reach my goal within construction, found the ACE Scholarship programme online and applied.
I found The Manchester College experience like no other. I was given more freedom in my work and how to express myself, both inside and outside the classroom.
"On the course, there were multiple like-minded individuals which made me a lot more comfortable within the College.
"I have already recommended the College to people who are also aiming to further their knowledge within construction. I believe the courses allow people with motivation and determination to achieve the result they deserve."
You can find out more about The Manchester College's Industry Excellence Academy for Construction and Engineering and apply today.