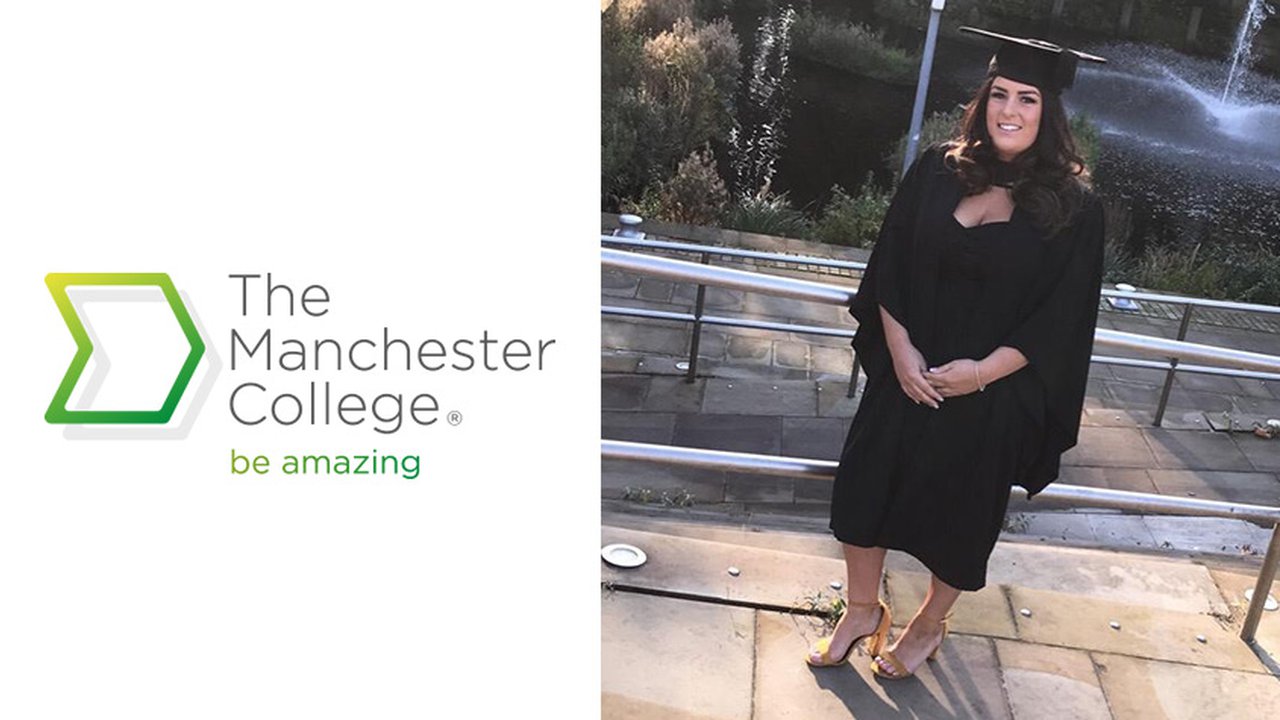 Former student Kelly returns as trainee teacher
A former student from The Manchester College will be returning in September to continue her education, but this time in a teaching capacity.
Kelly McCarthy achieved a BTEC Level 3 in Children Care, Learning and Development after studying at the college from 2006-2008. 
After spending ten years working in nurseries and primary schools, Kelly decided to further her career by studying for a degree in Childhood and Youth Studies at our degree provider, UCEN Manchester.
Now, Kelly is completing her PGCE with Bolton University. As part of her course, she'll spend four hours a week teaching an adult Level 1 Childcare class at The Manchester College. 
We spoke to Kelly about her academic journey and how she's looking forward to returning to The Manchester College. 
What attracted you to the courses you studied at The Manchester College and UCEN Manchester?
"The Manchester College was local to me and the Harpurhey Campus building was inviting. I felt good vibes from it straightaway. The tutors on my course were very informative and shared lots of useful, interesting information when I attended open days. They made the course sound exciting, fun and I felt I would learn a lot by enrolling onto the course. I knew working with children was a career path I wanted to follow and felt the BTEC course would equip me with all the theory, knowledge and practical experience I would need to begin my career. 
"I started my degree after working in primary schools and nurseries for over ten years, as I felt I was ready to progress and further my career. I attended the UCEN Manchester open day at Openshaw and instantly liked the campus and the facilities it had to offer. I liked that the degree course had their own building and separate facilities, such as the library and café. The tutors provided me with lots of information and gave me an insight to what I could be studying. The context fit with my career progression. The small class sizes were appealing, as was the tutor supervision I would receive. 
I chose to do my placement hours with The Manchester College as I felt I knew a little bit about the course already, having studied a similar one, and I remembered the positive experience I had as a student.
"I wanted to experience the course from the other side. The knowledge I would gain from working with experienced tutors would be beneficial to my future career as a tutor in the childcare sector." 
What are your career goals?
"My career goals are to continue working within the childcare sector as a tutor to both adults and 16-18 year olds. I would like to gain as much experience as I can, so I can provide an enriching learning environment for my future students and mirror that positive experience I have had from my tutors throughout my academic journey. I would also like to do my Masters, so I am enabling myself to teach at a higher level in universities up to degree level."
How have your tutors prepared you for your career?
"I've worked with a range of different tutors from level 3 up to level 7 and felt I've always had positive relationships with them. During tutorials, I was always able to speak about my future goals and ask for advice on how to achieve these.
My academic journey has prepared me to be a successful professional within in my field and has given me the skills required to achieve my full potential.
"From being a student teacher, working alongside the tutors, I have learnt so many different strategies and teaching styles that will positively influence my career."
What are you most proud of from your time studying so far?
"I am most proud of what I achieved during my last year at UCEN Manchester when studying for my degree. I had support and advice to reach my full potential, which led me to achieving a first-class honours degree. I worked very hard independently when studying for my dissertation, so I was thrilled to achieve 85% as my final grade for that piece of work. I also received an academic achievement award at my graduation for my achievements during the final year of my degree. 
"I am also proud of being asked to become a sessional tutor for The Manchester College, which will give me great experience of what it will be like when I have my own classes is the future."
Find out more about our Centre of Excellence for Childhood Studies and apply today.