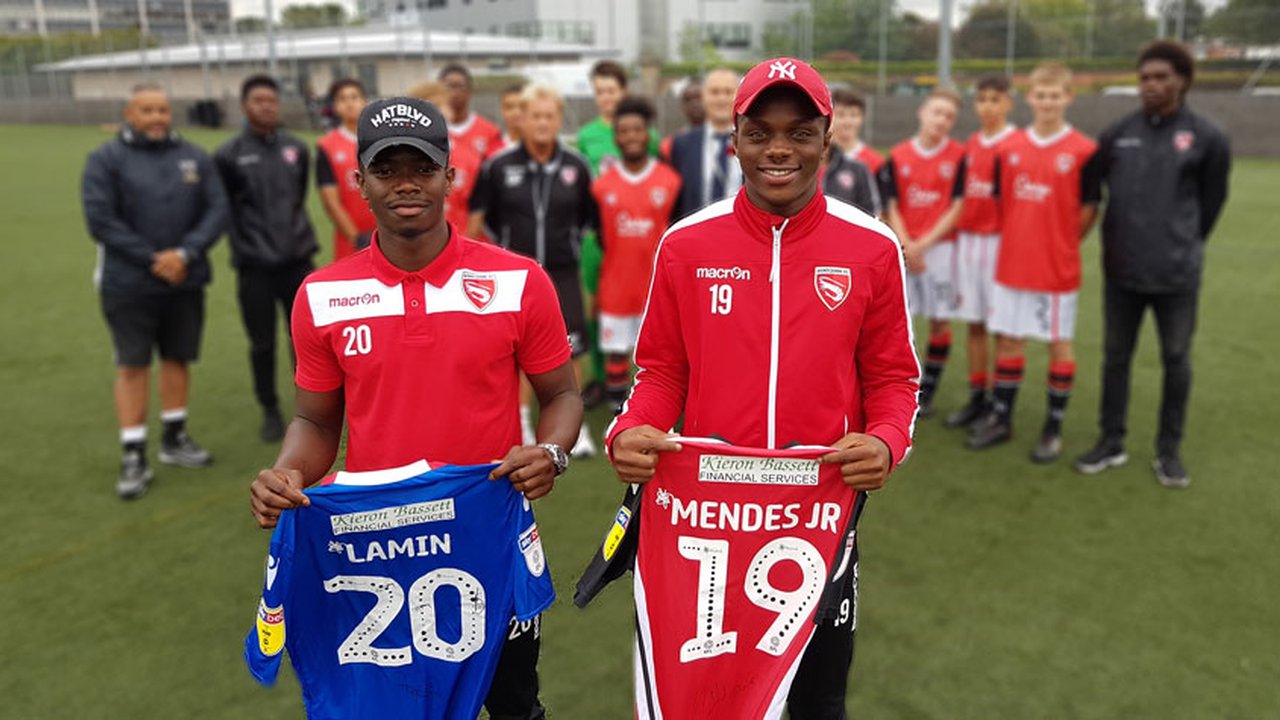 Nicholls football students turn professional players
It was back of the net for two students from Nicholls Community Football Centre of Excellence who achieved their goal of becoming professional footballers.
Carlos Mendes Gomes and Lamin Jagne signed to League Two Morecambe Football Club in June on a year's contract and have progressed at such a rate that they have made the first team after only three months.
The pair took time out from their busy schedules to head back to the Nicholls Community Football Centre of Excellence, part of The Manchester College, to speak to future footy stars about making it in the beautiful game.
Midfielder Carlos, who is originally from Lanzarote, had previously played for the Atletico Madrid youth team before moving to England with family three years ago. He originally attended the College's Shena Simon campus to learn English through ESOL (English for Speakers of Other Languages) and to study engineering.
Carlos said: "When I went to Shena Simon, it was to be an engineer. A friend called me to do trials here and thanks to The Manchester College, I'm now playing professionally. Signing professionally is something that I've been working towards my whole life."
Carlos, whose ultimate aim is to reach the Premier League, told Nicholls students that they needed to be mentally strong to study while training and playing.
He said: "There were moments when I questioned the time I'd spent playing football and worried that I'd wasted my time, but I also made sure I passed Level 3 Engineering because education is important to me."
Lamin moved from The Gambia to Huddersfield five years ago. The 20 year old midfielder had trials at a number of clubs across Yorkshire and Lancashire, and even played for League 2 Preston North End Football Club for two years.
He came to The Manchester College to study a fitness trainer course and while there, attended football training at the Centre of Excellence.
He said: "It feels good to have signed for Morecambe as signing professionally is all I've wanted since I was three or four years old. However, even if you don't make it in football, there are still a lot of opportunities within the football industry that The Manchester College offers. Some people are better at coaching or physio and there are lots of College courses you can do here."
Barry Atkins, Assistant Principal, Sports Public Services and Care Professions, said: "Since signing to Morecambe, both Carlos and Lamin have trained well, got fitter and are already on the first team, and they've done that in just three months which is fantastic."
Visit The Manchester College website to find out more about the Nicholls Community Football Centre of Excellence or to browse our range of Sport courses.