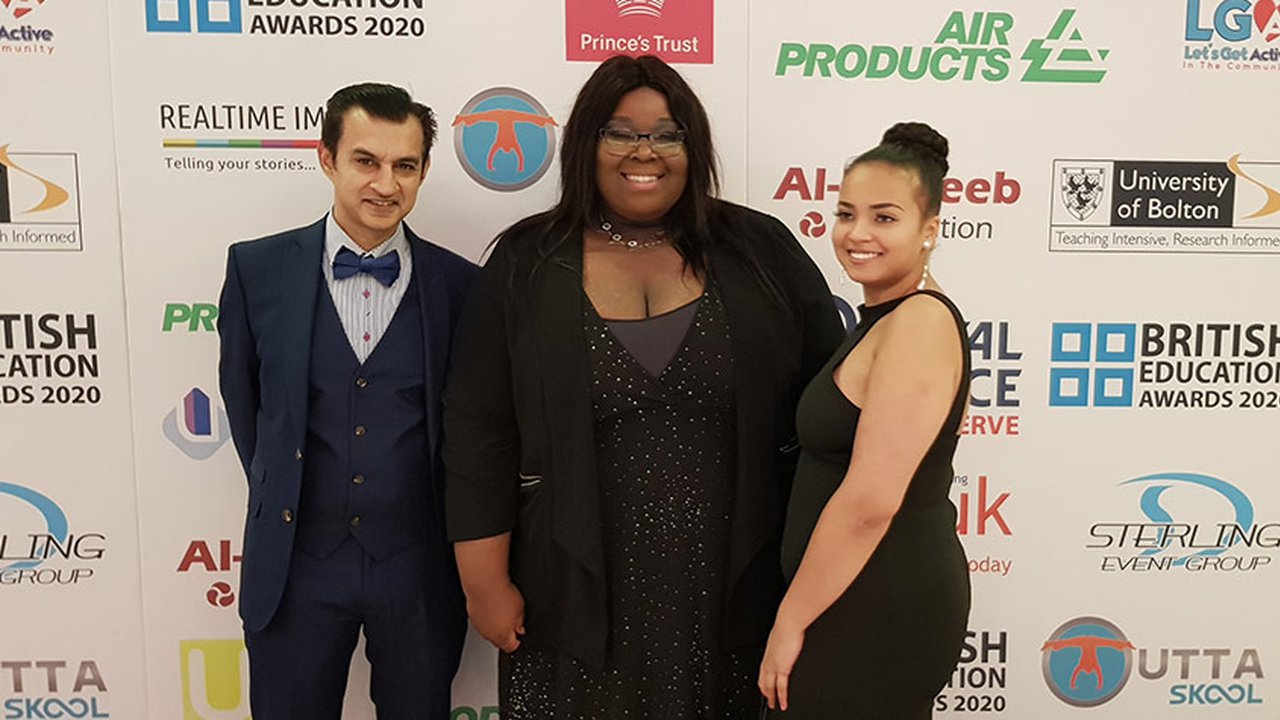 Student finalist in The British Education Awards 2020
Venus Ubah is a proud finalist in the BEA Awards 2020.
The Manchester College student Venus Ubah has been named a finalist in the Vocational Student category at The British Education Awards 2020, following exceptional work on her Business Computing and Creative Digital Industries course.
College tutors nominated Venus' for the national award following a string of achievements and successes while undertaking her course at The Manchester College. These include being named Student of the Year in 2019, becoming a student ambassador and class representative, wining national advertising competitions with The Ideas Foundation and Nationwide and excelling during her work experience as the General Manager at Manchester's Crowne Plaza Hotel.
While many national awards recognise the success of learning establishments and institutions, The British Education Awards are one of the few that celebrate individual student success. The awards seek to identify and pay tribute to individual students on a national platform.
Venus said, "Although I did not win, I'm so honoured to be a finalist for such a huge award! I would like to thank Ali Sadiq for never giving up on me and inspiring me to be my best. Also, my student mentor Sanaa Limbada and Achievement Tutor, Cat O'Grady for showing me that I can be myself and achieve anything.
"There was an instance where I was homeless while I was in College and I nearly gave up on myself. However, through strength and determination, I managed to get a flat and maintain my independence, learn to drive and save for my own car by working as a children's private tutor; and battle mental and physical health issues. That work has now paid off in so many different ways and I am looking forward to hearing about other students' achievements at the award ceremony."
In addition to her own successes, Venus has also provided support to her fellow students, spending her spare time at the College helping to teach GCSE Maths to those who needed extra help. This helped her to gain greater confidence and improve her communication skills.  
Commenting on her nomination Ali Sadiq, Business Studies Tutor, said: Venus has been an exceptional student and inspiration to her peers. Her humble disposition, coupled with her academic achievements, makes announcing the news of her recognition a pleasure for her tutors at the College. Her drive, determination and positive outlook has seen her overcome adversity, enabling her to complete her course and become a voice for others."
With the skills and relevant industry experience she gained from The Manchester College, Venus has now progressed to the next stage in her career, where she has co-founded a healthy fast foods start-up.
For further information regarding the employability placement opportunities at The Manchester College take a look at the Employability page online.