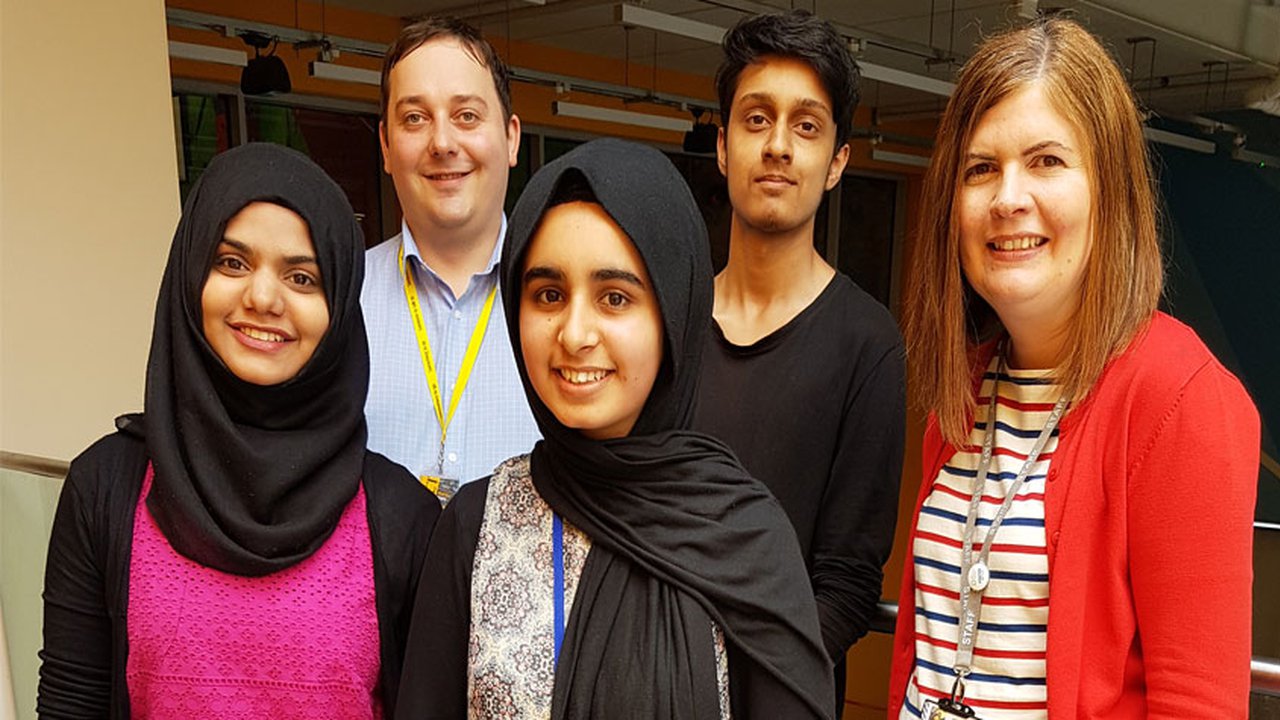 Students upskill with Enterprise Project
An Enterprise Project is helping students from across The Manchester College boost their business skills and get work ready.
Level 3 Computing students from Shena Simon, Harpurhey and Openshaw campuses are taking part in a two month programme designed to provide leadership and business training.
The group spend three hours every Wednesday at The Factory Youth Zone in Harpurhey planning, designing and promoting projects which will benefit the community.
Students have designed two projects - a smartphone app to help young people locate advice services in their local community, and a bicycle upcycling venture.
They have also enjoyed a range of learning sessions, from leadership skills to money management courses supported by mentors from Together Money, and have taken part in an app creation workshop hosted by city centre based agency e3creative.
The joint venture is part of the college's work placement programme and counts towards the students' work experience, with students gaining valuable skills and a reference for their CVs.
Louise Loxton, Employability and Partnership Coordinator, said: "The Enterprise Project and similar schemes gives our students quality work experience.
"They get to pitch their ideas to businesses, and learn real skills that companies are looking for such as project planning.
"They also get a reference for their CV and the chance to interact with relevant industry leaders." 
Mike Monks, Enterprise and Employability Manager, said: "The project gives students the opportunity to connect with genuine employers, providing young people with real insight into the world of work and career pathways.
"Organisations that support The Factory Youth Zone, such as e3creative and Together Money, donate not only their time but also their unique experience.
"They play a vital role in supporting us and have a huge amount of expertise that they are happy to share with the young people that we're engaging with."
Elizabeth Peters, Assistant Principal, said: "This is a fantastic joint project between The Manchester College and The Factory Youth Zone, and we hope to work together on many more.
"The students are gaining all important business experience and essential transferable skills, both of which gives them the edge in an increasingly competitive jobs market."
Student Zaneeb Hussain Akhtar said: "I've really enjoyed it, and we've met loads of new people. I particularly enjoyed learning leadership skills such as how to motivate, encourage and support other people."
Fellow student Wessaf Mahmood said: "The project has given us the independence to create and produce our own project to tight deadlines, and also the confidence to pitch our ideas."
Richard Marsh, CEO at the Youth Zone says "This Enterprise Project, the partnership with The Manchester College and our private sector support are a great example of how organisations can raise the aspirations of young people and nurture their enthusiasm for future careers.
"On Monday 2 July, we will be rebranding as Manchester Youth Zone. A big part of the rebrand is to do with how young people, particularly in North Manchester, can feel isolated from the opportunities available in the city and beyond, as the region continues to grow in prosperity.
"Through working in partnership with schools and colleges in the area we are able to play a crucial role in connecting young people with a wide variety of opportunities that enable them to learn valuable work skills from industry experts."
The picture shows (L-R) student Zaneeb Hussain Akhtar,  Mike Monks, Enterprise and Employability Manager, students Binish Noreen and Wessaf Mahmood, and Louise Loxton, Employability and Partnership Coordinator.
Find out more about our Computing courses at The Manchester College website.