Have you ever watched a perfectly executed film scene or played a hyper-realistic computer game and thought, "I want to do that?"
It doesn't have to be a dream – you can gain the Creative and Digital Media skills you need to achieve your ambitions right here at The Manchester College – the No.1 Further Education College in Greater Manchester for achievement*.
Our Creative and Digital Media courses are offered at our City Campus Manchester. Find out more about our new facilities.
*As per the latest Government National Achievement Rates Tables (NARTs)
Apply Now
Can you reach your potential in Creative and Digital Media? You can with us!
Make it possible today, view our range of Creative and Digital Media courses and apply to study at the No.1 Further Education College in Greater Manchester for achievement*.
Our Creative & Digital Media Courses
The creative and digital media sector is incredibly diverse – there are so many opportunities open to you if you have the talent, ability and drive to succeed.
We have courses for all levels and abilities from Entry Level through to T Levels and can teach you everything from 3D animation and visual effects to graphic design, TV and film production.
You'll put those new skills into practice, by working on live briefs set by broadcasters, games studios, digital agencies and international advertising firms.
Work experience is crucial in this competitive industry. Luckily, we have close ties to the sector, so you'll benefit from work placements in your chosen field, as well as networking opportunities, trips out and visits from local employers.
If you're 16-18 and you've obtained the necessary entry requirements, you'll be able to join our Industry Excellence Academy for Creative and Digital Media and study a qualification co-developed with industry partners such as Pie Analysis, Creative Cow, Flow Creative or The Games Production Company plus complete an industry placement of at least 15 days.
Alternatively, you'll join our Centre of Excellence for Creative and Digital Media which is designed to help you kick-start your journey into any one of those many opportunities in this exciting industry.
Our Tutors
We demand a lot from our tutors. It's not enough for them to be great teachers – they also need to have creativity, technical skills, relevant qualifications and industry experience.
Get to know some of our team:
Stuart Steen - Assistant Principal
Stuart is passionate about developing staff and students and their ability to become successful in whatever they do. He manages a team of experts across the Creative Industries department that are experts in their field and is focused on ensuring our students develop the best possible knowledge and skills to equip and prepare them for their chosen career.
Vanessa Simpson - Head of Department
Vanessa is a highly experienced educator with over 15 years of expertise in teaching Media in education. She holds a degree in Broadcast Media and American Studies, with a specialisation in post-production techniques for film. Her profound passion lies in the creative industries and the transformative power of education.
Louise Orgill - T Level Lead
Louise Orgill brings a wealth of experience to the team having taught TV and Film Production at the College for almost two decades. She uses her background in TV Drama and News Production, as well as her community work bringing film production to disadvantaged areas to ensure that her students receive a full and valuable creative media education.
Craig Sharp - Tutor
Craig is a Film, TV and Broadcast tutor as well as a keen musician. His specialisms lie within post-production and include areas such as video editing and sound design. Having industry experience across ITV, Cartoon Network and Lime Pictures, Craig continues to implement the latest broadcast techniques to inspire students to explore filmmaking and storytelling.
Ben Elson - Tutor
With a solid background in games art and development, Ben is well-placed to teach students a range of skills, including 3D modelling and animation, VFX and games development. He also volunteers with WorldSkillsUK and runs the Graphic Design competition on behalf of the College and Ideas Foundation.
Katy Rushton - Tutor
Katy specialises in animation and has previously worked for animation company Mackinnon and Saunders. She still collaborates with other local employers to ensure her teaching is industry relevant. Through Katy's links to the sector, her students are able to gain vital work experience and benefit from other opportunities to engage with potential employers.
Joanne Lowes - Tutor
Jo has a multidisciplinary educational background, which includes a bachelor's degree in Graphics and Advertising and a master's degree in Socially Engaged Photography and Digital Graphics, and has been teaching in further education and higher education for over 15 years. Jo works with students on a variety of courses and brings a wealth of experience to consistently deliver varied and engaging sessions.
Geo Norris - Tutor
Geo is an experienced and multi-skilled designer who specialises in graphics, 3D, VFX, animation and media production. He has qualifications in Creative Digital Technologies and a PGCE, and has over 15 years of teaching experience in creative media. Geo has a unique insight into the media industry and his insightful and inspirational teaching style is popular with students.
Our Facilities and Location
Our Industry Excellence Academy for Creative and Digital Media is based in our amazing, new, state-of-the-art, four-storey City Campus Manchester next door to the AO Arena.
You'll have access to fully-equipped computer suites, where you'll find all the latest software and state-of-the-art technology for 3D modelling, design, development and editing.
But that's not all. You'll also have the opportunity to practise in our very own on-site recording rooms, and film and TV studios. You'll have all the industry-standard equipment that you need, including professional DSLR cameras, green screens, and specialist lighting and sound equipment. We've even got a full-service production vehicle for use on location!
We are dedicated to giving our students the best experience, using the latest Game Engine and 3D software to create amazing games and visual effects. Our courses host a real studio working environment, supported by an array of high spec game development PCs, 3D printers, virtual reality technology and composition suite, giving students the freedom to create what they need to develop an industry standard portfolio of work. 
You'll also have access to a TV studio with production gantry, radio and sound studios, an infinity screen, game design and production suites and much more.
In addition to our provision at City Campus Manchester you can also enrol on a Level 1 course at our Harpurhey campus, which is well served by public transport. So, wherever you live, you're not far from starting your journey towards a career in the creative and digital media sector.
Find out more
Find out even more about our Creative and Digital Media department in our subject area guide or on our YouTube playlist:
Download our subject area guide
Stay up-to-date with everything that's going on in our Creative and Digital Media department via social media:
Photo gallery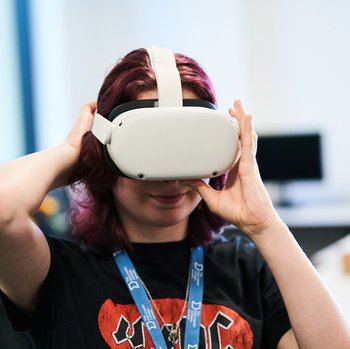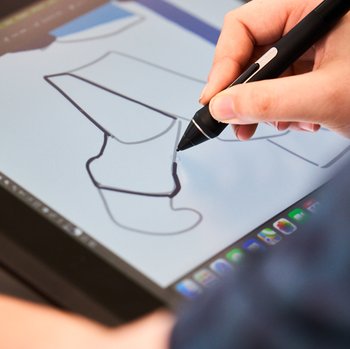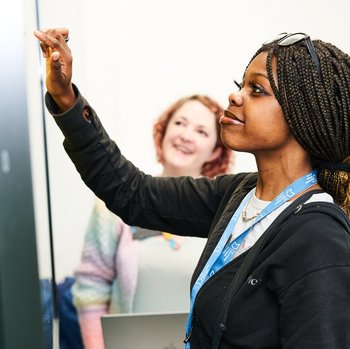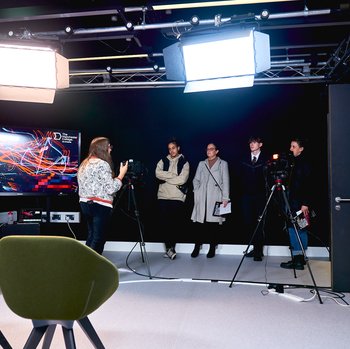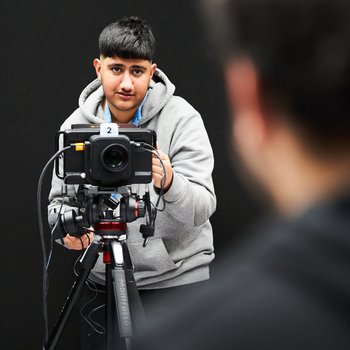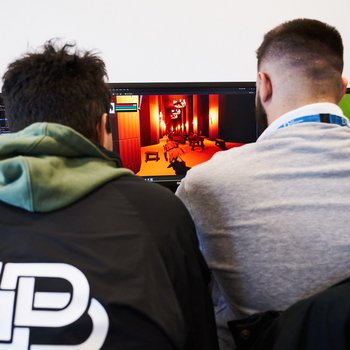 Be part of the next generation of creative excellence
Explore our degrees in Photography, Graphic Design, 3-D Game Art and many more.
Top Careers Opportunities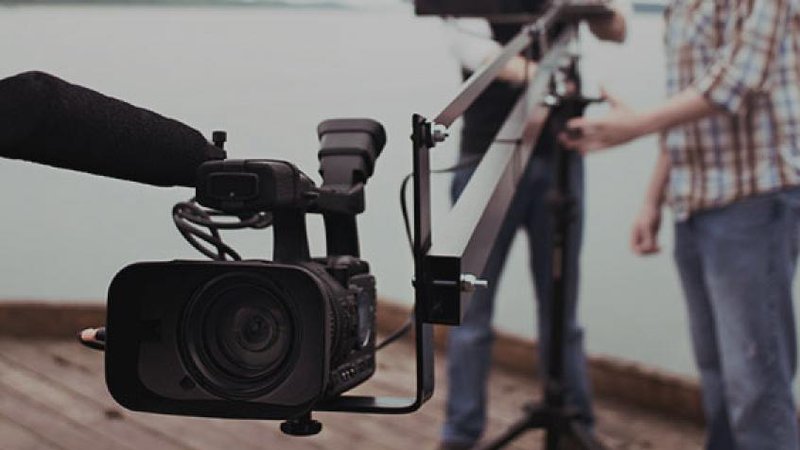 Arts officers, producers and directors
Average Salary £50,440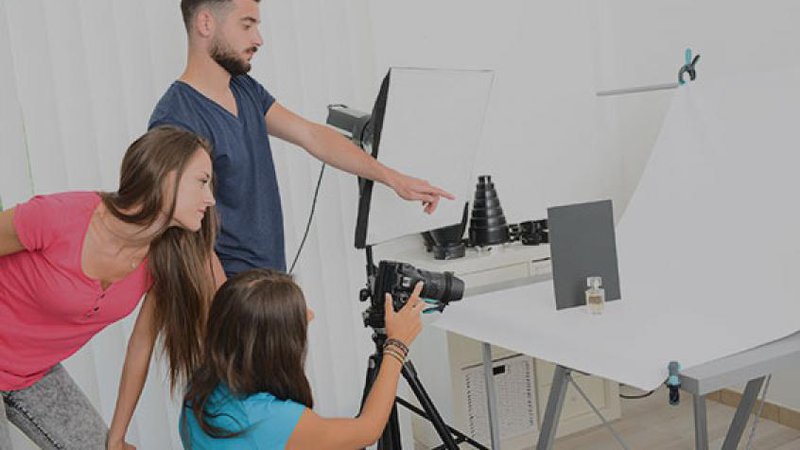 Photographers, audio-visual and broadcasting equipment operators
Average Salary £31,200
TV, video and audio engineers
Average Salary £31,720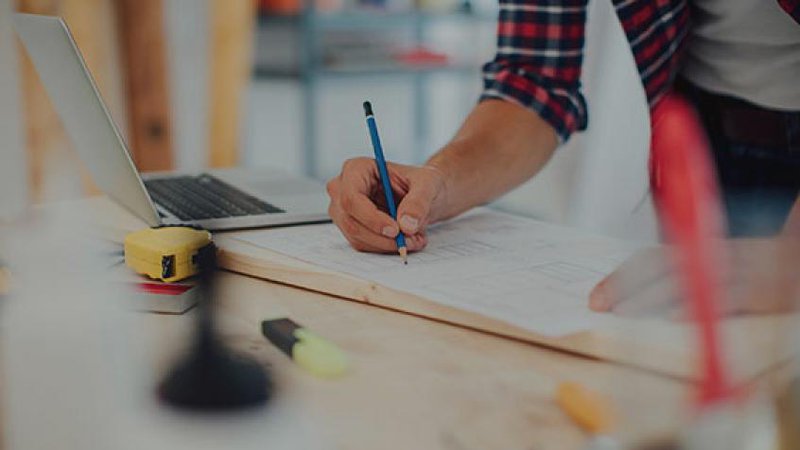 Graphic designers
Average Salary £31,200

I loved the course so much. The staff went above and beyond in supporting me. The small class size really made it feel personal and I formed wonderful friendships with everyone in my class. I'd recommend it to anyone looking for fantastic opportunities to work with big-name companies, get real hands-on experience in the industry and be supported every step of the way. Best course ever.
Alistair Sheehan • Digital Design and Communication

The college is really diverse with a variety of courses taught by great tutors. They did a brilliant job providing us with advice and understanding our individual ambitions. They helped us gain work experience by arranging placements within the industry as well as organising visits and workshops.
Michael Kaczmarzyk • Level 3 Creative and Digital Media

In one of The Manchester College's 19 Centres of Excellence you'll develop the skills and gain the qualifications that you need to take the next steps towards your dream career.
Learn more

In our unique Industry Excellence Academy you'll benefit from a programme of study that has been co-developed, and is co-delivered, with one of our industry partners.
Learn more